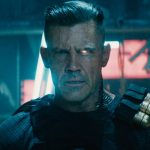 When the first Deadpool film burst onto cinema screens in 2016, it was like all of our potty-mouthed anti-hero dreams came true. We finally had a truly bad ass, fourth wall-breaking Marvel character who was able to surpass box office expectations – even with a rated 15 certificate. So, was it a fluke? Should you ever re-visit something you love?
Absolutely not. Deadpool 2 is every bit as violent, funny and hyper aware of itself as our titular hero's first outing. There are times when I laughed so much I thought I was going to pass out; violence so spectacular I was holding my breath; and a title sequence to end all title sequences. Tongue firmly in cheek, this Marvel sequel is happy to make fun of itself, the cult of the superhero universe and topical first world problems.
There is very little I can actually say about the film without giving *huge glaring spoilers* away. And I'm not going to be that guy. You can tell – despite the mask – that Ryan Reynolds is having the time of his life in that red and black suit. He delivers both comic and serious dialogue with such tremendous ease. Although his first outing as Deadpool back in 2009 was absolutely balked at, he has made the character his own. Without his deadpan sarcasm and love of a trashy pop song, the film just wouldn't work.
Hunt for the Wilderpeople's Julian Dennison is, once again, absolutely brilliant. He is an incredible child actor who has managed to transition seamlessly from indie cult hit to box office blockbuster. His character, Russell, is an incredibly confused and isolated young man, desperate for Deadpool to take him under his wing. There's just one problem – he has Cable on his tail.
And now, let's all pause for a moment to appreciate Josh Brolin as Cable. His biceps, his Southern drawl, his sweat glistening on his forehead. He. Is. Ripped. And I mean ripped. I always think it does a film good to have a villain who can truly land the hero on his arse and Brolin's Cable is more than game for Deadpool. The slightly metallic tang that echoes every time he threw a punch was a nice touch. I could have honestly watched two hours of his slow motion sequences; flexing his muscles, firing his gun, swishing his cape. Glorious.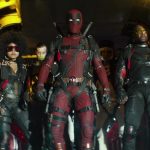 Karan Soni is back as the faithful taxi driver, Dopinder, who dreams of being a contract killer, as well as T.J. Miller and Leslie Uggams. Eddie Marsan crops up as a particularly odious orphanage owner. And, as the trailer suggests, Rob Delaney puts in a hysterical turn as superhero wannabe, Peter, whose moustache gloriously frames his face as he sky dives.
There's a running gag about Barbra Streisand (who just so happens to be Brolin's step-mother) in Yentil; constant digs about Brolin's height; and about a million different pot shots at characters in both the Marvel and DC Universes. It's a film that's able to send up the superhero genre without falling foul of too many of the tropes that it laughs at.
It's also a film that pokes holes in its own consciously diverse casting. Deadpool refers to Dopinder as "brown panther" and Domino (Zazie Beetz) as "black Black Widow" and asks a white guy with dreadlocks if his superpower is "cultural appropriation".
Deadpool 2 is really good, grown up fun. It's an entirely different market to its box office competitor, Infinity War. The two hour run-time flies in and – despite not having the strongest of storylines – director David Leitch has managed to pack in huge bursts of action, humour and just a little dash of poignancy.
As always, stay in your seat beyond the credits. So many people left the cinema when there was still plenty of fun to be had.
Editor at Moviescramble. European cinema, grisly thrillers and show stopping musicals are my bag. Classic Hollywood Cinema is comfort food. Spare time is heavily dependent on a lot of pizza and power ballads.
Latest posts by Mary Palmer (see all)