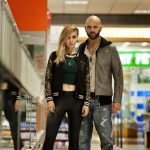 There are few stereotypes about Italian culture that are readily relied on in cinema, satire and the news. The first, is that the country is home to the Mafia (and all Italians are in the Mob) and the second is that their politicians are incredibly corrupt with voracious sexual appetites. Without coming across like a crude caricature of life in la citta eterna, Stefano Sollima's 2015 crime thriller, Suburra, manages to encapsulate both stereotypes with slick style and brutal violence.
Sollima is at the helm of the forthcoming sequel to Denis Villeneuve's Sicario and, if you're not sure what to expect in terms of visual style, Suburra is as good a place to start as any. Sollima never shies away from the gritty; the violent; the excess.
This isn't an attempt at creating another Godfather. This is a film that is utterly raw in every nasty little detail it lays bare. You practically have to scrape the dirt from under your fingernails after watching.
Counting down seven days until an alleged apocalypse, at the heart of the film is the utterly loathsome, slippery MP,  Fillipo Malgradi (the brilliant Pierfrancesco Favino). He is desperately trying to cover up his addiction for hardcore drugs and underage prostitutes, whilst keeping Rome's feuding gangs from decimating each other owing to rivalries regarding a patch of coastline that is up for redevelopment. There are envelopes being passed around the parliament; supermarket shoot outs; and organised hits. The cobbled streets of the historic city are slowly being paved with blood.
The Samurai (Claudio Amendola) needs to get his Vegas-style coastline plans approved in order to make money; Numero Otto (Alessandro Borghi) dreams of finally making his own money; Manfredi Anacleti (Adamo Dionisi) is busy terrorising the conflicting gangs whilst blackmailing Malgradi. There's even the abdication of Pope Benedict thrown in. That's what is so exciting about Sollima's direction – there are so many storylines weaving their way throughout the film and yet it never feels crowded. You can always keep up with the action and follow the characters' exploits. Like Rome itself, its sprawling, tumultuous and pretty to look at.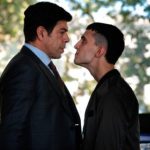 It's brash and unapologetic – utterly Italian and operatic at its exploration of the main themes and plot points. Pasquale Catalona has done a truly amazing job with the score; a searing mix of contemporary and classic that manages to pulsate its way throughout the film. As the film progresses, the score builds neatly and poignantly.
The body count seems insane, although I suspect it probably isn't nearly as violent as some might predict. Sollima toys with "Bunga Bunga" stereotype and presents a new type of steelier, grittier national portrait. There are no cliches, no wandering monologues, no stylised violence. This truly is a collection of unlikeable, selfish individuals who will stop at nothing to achieve dominance. The women in their lives are there to be fucked and disregarded; the minions in their gangs are there to run errands and take a bullet.
Sollima mixes blockbuster-type action sequences with truly scathing political commentary, and absolutely pulls it off with more than a hint of visual flair. He stamps all over any romantic notions of Rome and spit on it afterwards, for good measure.
I can't wait to see where he takes Benecio del Toro and Josh Brolin in Sicario 2: Soldado. 
Suburra is currently streaming on Netflix.
Latest posts by Mary Palmer
(see all)