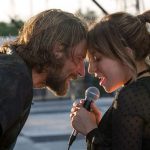 The first trailer for Bradley Cooper's directorial debut, A Star Is Born, has been released. Co-starring Stefani Germanotta (aka Lady Gaga), this will be the fourth re-imagining of the classic story and will continue the Born This Way singer's foray on to the screen, following her Golden Globe-winning performance in American Horror Story: Hotel. 
A Star is Born follows an aspiring singer, Ally (Gaga) who is helped along the way by an ageing musician, Jackson Maine (Cooper) whose career is on the outs. Maine spots the shy but vocally powerful Ally singing in a bar, where she tells him, "Almost every single person has told me they liked the way I sounded but they didn't like the way I look."
A montage sequence picks out the course of their tempestuous romance and singing careers – Cooper even sang onstage at Glastonbury to get some of the shots for the film.
The film is something of a passion project for Germanotta, as she had previously stated how inspiring she found both Judy Garland and Barbara Streisand whilst she was forging her early career in music.
Despite Gaga's clear love of her fellow divas, this version of the story appears to lack any of the raw emotion of Garland's original. Ally doesn't seem spiky and vulnerable … She just seems a bit glib. The trailer makes this seem like a bad love story set to music. The full film may well feel a little more authentic but there's no hint of that for now.
A Star Is Born is due for release in UK cinemas on October 5.
Latest posts by Mary Palmer
(see all)