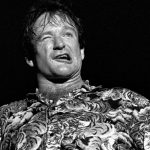 "You're only given a little spark of madness. You mustn't lose it." 
I remember where I was when Robin Williams died. It was just after 3am and I couldn't sleep so I did what most people do … I picked up my phone. I went on Twitter. Robin Williams was trending. He was gone.
There was an immediate sense of loss. When I was child, he represented pure entertainment. He was the Genie; the professor in Flubber; Peter Pan; Jack; Mrs Doubtfire. He was all of the chaos and energy that made me gaze at the screen in wonder. As an adult, he was a therapist, a teacher, a radio DJ and someone who worked at a photo kiosk. He was this wild and hyperbolic force who somehow managed to bring nuance and emotion to everything he did.
Marina Zenovich's documentary, Robin Williams: Come Inside My Mind, spans the entirety of the late actor's career – from busking on the streets of LA, to wild nights in stand up, from TV to film. She has gathered together talking heads from various points in Williams' life and with varying levels of intimacy. Most of the stars, colleagues and friends who are interviewed give a sense of really loving the man, but never quite grasping how truly vulnerable he was. Robin, they say, was always "on".
He's an actor who revolutionised stand up, with his sweaty, improvised, madcap shows that look like even the audience left exhausted. He, quite literally, changed the way sitcoms are filmed, as an extra camera had to be introduced to capture all of his physical hijinks on Mork and Mindy. As a performer, he set the bar. Many acts, including the likes of David Letterman and Steve Martin, said they didn't want to follow him. He was too good.
Williams simply wanted to entertain and feel the warmth of an audience. When Zenovich flicks through still images of the comic in his heyday, he is surrounded by people laughing and smiling. Williams, though, never is. His lips are never creased into a smile – unless it is a posed photo shoot – and his eyes don't shimmer the way they do on screen. He looks sad; lonely; searching.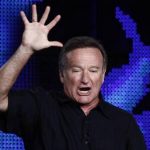 Zenovich, as it turns out, was actually an extra in 1991's The Fisher King, and so had met her subject (albeit fleetingly) over two decades ago. It's a film that had a huge impact on Williams, as it made him take a step back and appreciate the intricacies of mental health and the way it can impact upon an individual. Perhaps he caught a glimpse of his own demons staring back at him.
It is really quite endearing to see the likes of Billy Crystal and Eric Idle reminisce about their friend. The stories they share about silly pranks, phone calls and dinners they had together could be any set of friends talking about the love they shared. Idle discusses Williams' battle with drink and drugs and notes that he could never understand why Robin took cocaine, as it "didn't make him funnier. He was funnier without the stuff." Crystal recalls that, following his misdiagnosis of Parkinson's Disease, it was the only time he had ever seen Williams scared.
The reality of course is that, from a young age, Williams was scared. Scared because he came from a broken home; scared his career would never take off; scared when it did; scared of being alone; scared of losing his audience; scared of being unable to make people laugh. He was an incredibly layered, vulnerable, isolated man – despite his legions of adoring fans and the reams of laughter he regularly received.
From the diagnosis of Parkinson's, perhaps he was also scared that the disease was going to rob him of the mindset and physicality that represented his own unique brand of comedy. He was a mind – and a body – that operated at a million miles an hour. He was a man who chose to physically exert himself in order to drown out his own thoughts. He was going to lose that.
What Come Inside My Mind really highlights – in amongst all of the frenzy, fun and laughter – was that a man who dedicated his entire life bringing joy to everyone he met, never really found his own.
Editor at Moviescramble. European cinema, grisly thrillers and show stopping musicals are my bag. Classic Hollywood Cinema is comfort food. Spare time is heavily dependent on a lot of pizza and power ballads.
Latest posts by Mary Palmer (see all)