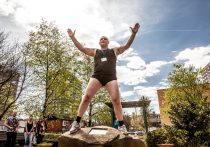 Strangeways Here we Come is the brand new British feature film set to be released in UK cinemas on 5th October . This black comedy has a great ensemble, award winning cast including Michelle Keegan, Elaine Cassidy, Stephen Lord, Chanel Cresswell, Nina Wadia, Oliver Coopersmith, Lauren Socha, Perry Fitzpatrick, Ania Sowinski, James Foster, Saffron Hocking and Mark Seals. Sucked into debt and finding themselves trapped by evil loan shark Danny Nolan, the desperate residents of the Owen Street estate in Salford come to the conclusion that the only way to free themselves is by bumping him off.
One fateful morning, after a rollicking, sexy house party, that's exactly what happens.  However, these are not professional killers and things unravel when a tough, uncompromising woman starts asking awkward questions.  They think she's a copper, but Steph is Nolan's wife and she's twice as evil as he ever was. Nervous hilarity, guilt and stumbling paranoia quickly set in.
More info can be found at strangewaysherewecome.com
Editor-in-Chief at Moviescramble. A Fan of all things cinematic with a love of Film Noir, Sci-Fi and Julia Roberts in Notting Hill. He hopes to grow up some day.
Latest posts by John McArthur (see all)