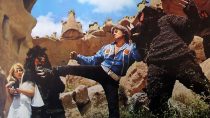 The notorious Dünyayı Kurtaran Adam (1982) is the "holy grail" of cult cinema. In 1982, director Çetin İnanç edited footage from Star Wars into his own film, along with music from Raiders of the Lost Ark and Flash Gordon. Now Matchbox Cineclub, Remakesploitation and Neon Harbor are teaming to tour the newly restored Turkish Star Wars 2K to the UK this September for Scalarama 2018.
Turkish Star Wars revolves around two Turkish space pilots who crash-land on a desert planet enslaved by an evil wizard. Memorable sequences involve the heroes battling robots inspired by Battlestar Galactica and Forbidden Planet – plus mummies, skeletons, and multi-coloured yetis. Another sees them in starfighter "cockpits," wearing motorcycle helmets, as footage from the Star Wars Death Star battle is projected behind them.
For many years, the film circulated only in low-resolution bootleg copies, but in 2016 a 35mm print of the film was discovered and a digital scan has been made so that the world can finally see the film the way it was intended, and with newly translated English subtitles.
For details of the screening schedule go to https://matchboxcineclub.com/2018/08/13/turkish-star-wars-2k-tour/
Editor-in-Chief at Moviescramble. A Fan of all things cinematic with a love of Film Noir, Sci-Fi and Julia Roberts in Notting Hill. He hopes to grow up some day.
Latest posts by John McArthur (see all)