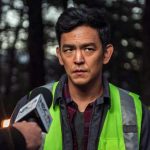 According to recent statistics, we spend up to nine hours per day on social media and our actions are captured up to 300 times on camera. So, if someone meant missing, it would make sense to check their search history. Writer / director Aneesh Chaganty has pounced on this idea and come up with a slightly different take on the "found footage" genre in his feature length debut, Searching. 
The film opens with the sound of the 90s – the Windows opening music – and starts to chart just how much of our lives are captured on a computer. We are shown glimpses of the Kim family, David (John Cho), Pamela (Sara Sohn) and their daughter Margot, as they mark life events, first days of school and Pam's cancer battle. It's a bit twee, but is a usual, quick way of bringing everything up to date. Plus, with the film's 12a rating, such a heavy focus on Mac's and social sites should be a good way of guaranteeing healthy box office numbers.
Done with reminiscing, David is now a single parent, struggling to connect with the now teenage, Margot (Michelle La). Like most of her adolescent counterparts, she is withdrawn and a little distant. She and her dad largely communicate through iMessage (handy, right?). Allegedly at a biology study group, Margot struggles to return home one night – which is where Chaganty really speeds up the story. Thank god she goes missing early on – I wouldn't have been able to cope with an entire film conveyed via text.
Diving into his daughter's laptop, David realises – without even a hint of irony – that his teenage daughter may not have been telling him everything that was going on in her life. She doesn't have too many friends; she posts a lot of lonely pictures; she has her own livestream cast. Desperate to assist Detective Vick (Debra Messing) and the missing persons investigation, David conducts his own inquiries as to the whereabouts of his daughter.
The problem with Searching is that it doesn't really know what it wants to be. I'm sure all the "screen time" and social media references will resonate with "the youth" but I'm not convinced that "laptop cinema" works as a genre. It might have been better if it were merely integrated into the film, rather being the entire basis of the plot.
There are also a lot of REALLY BIG CLUES – either visual or verbal – throughout that will guide you along to working out the big twist. There's also an incredibly transparent red herring effort just over halfway through the film. For some reviewers to have called the film Hitchcockian is both an insult to the man and a damning indictment of the standards of modern cinema.
It's not that it's a terrible film, although Messing's performance is a little hammy at times, it's just that it's entirely forgettable. It's not as groundbreaking or thrilling as the trailers would lead you to believe. It's really disappointing, as the plot unravels, to realise that the film that you've been reading about absolutely does not match what previous reviews have promised.
I understand that – to a certain extent – the film proffers some social commentary about living our lives through social media platforms and how what is presented to you via pictures and status updates isn't necessarily a reflection of real life. However, it's a point that's only whispered a few times throughout the film, rather than consistently delivered.
John Cho does well to hold Searching together but, for me, Aneesh Chagnaty's film doesn't merit as many "likes" as I'd hoped.
Latest posts by Mary Palmer
(see all)