One of the early highlights of the 2018 Sitges Film Festival was the world premiere screening of Ron Perlman's new film Asher. The man himself was in attendance to receive an award from the festival organisers for his contributions to fantasy cinema over a long and very successful career. He spoke to the assembled audience and came across as a man who feels very lucky to be still doing what he is doing. He was especially proud of his new film as it marks a change for him in terms of the type of film he wants to be involved with. He made a very good choice.
Asher is a particular type of hitman. He is methodical. Working alone is his preferred option and he gets the job done with little or no fuss. He is given a series of jobs to do to avenge the murder of one of his employers other contractors. It seems there is a new organisation trying to take over certain areas in the city. Asher is asked to team up with his former apprentice to continue with the revenge and it is in doing this that things start to fall apart. He has more to lose than just his life as he has just recently made a connection with a woman under some extraordinary circumstances.
Ron Perlman is front and centre in the film. He features in almost every scene and gives a very strong and nuanced performance. This role calls for restraint. The character of Asher is an older man. He is not the quickest or fittest anymore but his experience and confidence carry him through the most trying of circumstances. There is a world weariness to him that comes across in the way he sighs and gives a look of disgust when confronted with something that isn't to his liking.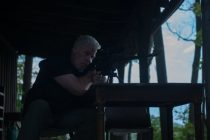 It is in his routine that we see the other side of the character. We are introduced to him as he shines his shoes. This is part of his pre hit  routine that works to settle and focus him. Outside of work he is equally stable. He eats at the same time each day and only drinks good wine, but not in a way that would make him seem aloof. It's all about choice and behaviour.
With Sophie (Famke Janssen) coming into his life it opens up a door that he thought closed. She is a person who has a past and a particularly difficult present as she looks after her mother who is suffering from dementia. She has a general reluctance to get involved but she is as closed off as Asher from human contact, so it is inevitable in terms of the plot that she opens herself up to him.
Their time together on screen is well handled. It is a bit like a dance in that there are certain steps to be taken by each person before their routine is established. It is here that the darkly comedic elements come into play. While discussing her mother, Sophie floats the idea of killing her. There is a back and forth over the various ways to do it which works really well as Asher has not disclosed just what he does for a living and she thinks it is light hearted banter. This conversation is referenced later in another scene to equally comedic effect.
The film is also notable for a couple of cameo roles. Jaqueline Bisset is superb as the mother. The character has an acid tongue due to her mental confusion which makes her time on screen memorable as it heeightens the drama it between mother and daughter. It is a strong performance in a role that only has about 10 minutes of screen time. The other great performance is from Richard Dryfuss as Asher's ultimate boss. This is a man who oozes menace underneath a charming exterior. As with Bisset, the performance is more than the film requires and it makes it all the better for it.
Asher marks Ron Perlman's first foray into low budget film making for some time. He is doing this primarily to get the roles that interest him rtistically. On the strength of this, Asher will the first of many.
Latest posts by
John McArthur
(see all)