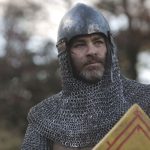 The Scottish Wars of Independence marked a period of violent unrest; a fractured Scotland consumed by in-house fighting and a desire to break free from the English throne. The "poster boy" – if such a thing existed in the fourteenth century – for the movement would, undoubtedly have been William Wallace. He was an inspirational leader, a brave fighter and – perhaps key to his successful following – a common man.
His "colleague", Sir Robert the Bruce, proved a trickier offering. As a nobleman, he was seen as distant from the people he wanted to rule, and many Scots never truly forgave him for not siding with Wallace when it counted. There is nothing to suggest he was as charismatic or as fiery as the Elderslie-born outlaw and, indeed, David Mackenzie's film opens with the Bruce signing away land and taxes to the odious, snarling Hammer of the Scots, Edward I. So, I was keen to see which elements of Bruce's leadership would be focused on.
Outlaw King will, no doubt, be compared by many to Mel Gibson's Braveheart but – on reflection – it probably has more in common with Justin Kurzel's bleak and haunting Macbeth. It's not a romanticised notion of Scotland or what it meant to be Scottish in 1304. There are disembowelments; there are hangings; there are full-on, gory battles.
For a film that aims to chart large-scale, bloody battles, it is interesting that Netflix is the platform of choice. It seems very small in comparison to the giant struggle undertaken by Bruce and his men.
It is interesting to note that the titles – on screen, at least, if not in print – read as Outlaw / King. It would suggest that more viewed him as the former than the latter. Throughout the film, Bruce (played very stoically by Chris Pine, who does a more than decent job at the accent), does struggles to rally his countrymen around him until the climactic battle at Loudoun Hill.
And, where Pine is stoic and strategic, the Black Douglas (Aaron Taylor-Johnson) is clearly a maniac. Frothing at the mouth, face drenched in blood, his battle scenes were the most erratic and bloodthirsty of the lot. The usual Scottish faces show up – from Tony Curran to James Cosmo – but I didn't feel like any of them were really able to make an impact on the action. We didn't get to learn enough about their back stories and why they chose to align themselves with Bruce.
Stephen Dillane does a good job of the villain of the piece – Edward I – whilst Billy Howle, complete with ridiculous haircut, desperately tries to prove himself as a worthy heir to the throne. It's not a film that's big on historical accuracy, but that didn't take away from watching Edward II crawling away from Bruce on the battlefield, snivelling and crying for help.
Barry Ackroyd's cinematography really adds to the battle scenes. I loved the mixture of extreme close ups – spear through the heart, anyone? – and wide shots that allowed you to understand the scale of the action. What was confusing, though, was the constant moving about between scenes. One minute, the soldiers were in Berwick, the next they were on Lewis and there wasn't too much explanation as to why or how.
And, if you came to Outlaw King purely for some peen, you've come to the wrong place. It's a blink and you'll miss it appearance. More to the point – why are we focusing on this out of Pine's entire performance? It wouldn't be acceptable to talk about a woman in this way so let's just keep it to accent and craft.
Overall, the film is okay. It does seem to gloss over major pieces of information and doesn't reveal too much about the supporting characters. The battle scenes are excellent, but I doubt it will spawn a whole generation of cinema goers shouting "try, try and try again" in the way that Gibson still inspires chants of "Freeeeeedooooooom!"
Latest posts by Mary Palmer
(see all)