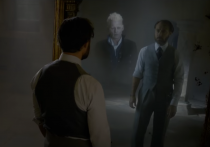 When the Harry Potter franchise concluded it left a legacy that includes five of the series' eight films ranked among the 50 highest-grossing films of all time, with the last instalment, Harry Potter and the Deathly Hallows – Part 2, the highest-grossing of the films. Needless to say Warner Brothers were reluctant to close the doors of Hogwarts for the last time. 2016's Fantastic Beasts and Where to Find Them launched a new story in the Wizarding World, fresh with new characters and adventures. Originally announced as a trilogy, five movies are now planned with Fantastic Beasts: The Crimes of Grindelwald the first sequel. The first movie showed there was still a place for the wizards and witches in the real world of muggles, but was it enough to sustain a new series?

The dark wizard Gellert Grindelwald (Johnny Depp) is on the loose having made a violent escape from his prison in New York. He roams Paris looking for Credence Barebone (Ezra Miller), host to a powerful and destructive Obscurus that destroyed much of New York City a year earlier. Newt Scamander (Eddie Redmayne) believes that Credence was killed in New York, however the Ministry of Magic inform him otherwise, hoping he will help them in finding and killing the young man. Newt rejects the proposal but is persuaded by his old school teacher Albus Dumbledore (Jude Law) to locate Credence and perhaps save him from the darkness that plagues his soul.
Much like the Harry Potter series that saw the stories get darker with each entry, The Crimes of Grindelwald is more sombre with its lack of optimism and shocking killings. There is certainly a mature quality to the Fantastic Beasts films that is a continuation from the overall tone first set with The Prisoner of Azkaban. It still remains a family movie but one parents should take precaution with regarding younger children.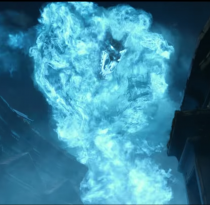 The set pieces are fantastic, a bombast of gorgeous colours as the wizarding battles and Scamander's creatures are brought to life by a wonderful use of CGI. The destructive nature of Credence is frightening in its intensity and with the plot set primarily in the world of les non magiques, the real world settings raise the stakes much like the previous film did in New York. This isn't a magical place set outwith our sight, it is in cities we are familiar with albeit almost a hundred years ago. The script suffers at points as it looks to set up future films as well as further the plot of the current one. This leads to plot lines intertwining only to be shoe horned into one scene with forced exposition that feels neither natural nor necessary. Thankfully it's a small blip as the third act corrects itself producing some wonderful dialogue, exciting twists and a thrilling battle.
Controversy surrounded the decision to keep Johnny Deep as Grindelwald and it lingers over his earlier scenes. From a performance standpoint he cranks up the weird factor a little too much with his intensity appearing cartoonish. As the movie progresses he grows more comfortable in the role, most notably during his rousing speech where he cements his role as a populist demagogue, creating a memorable villain for our heroes to fight. Claudia Kim didn't come under fire directly but the filmmakers did for casting her as Nagini (no spoilers for those watching chronologically). Where people damned the decision based on one clip from a trailer, Kim puts in a wonderful performance and is sure to be a scene stealer in future instalments as she slithers towards her fate. Katherine Waterston's Tina Goldstein takes more or a back seat this time while Dan Fogler and Alison Soudol also reprise their roles as no-maj Jacob Kowalski and Queenie Goldstein.
As wonderful as the recurring cast are, there would be much speculation over how Jude Law would fare as a young Dumbledore. He's perfect for the role, a wizard already held in high esteem, he balances that cusp between greatness and legend. Confident caring and charismatic, he epitomises an earlier variation of a character that many audiences and readers grew up with. Zoe Kravitz puts in a strong yet understated performance as she struggles with a dark past and the guilt of her decisions and bloodline.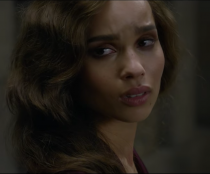 The Crimes of Grindelwald is visually stunning and more than whets the appetite for part three. Narratively it does feel a little like a stopgap at times, confident in its ability to greenlight sequels it builds towards a certain money spinning future. We know the fate of some but not others, and neither is less exciting. A dazzling spectacle that shows there plenty of magic left in J.K. Rowling's Wizarding World without having to re-tread old ground.
Latest posts by
Thomas Simpson
(see all)