My top ten doesn't represent the best ten films of the year. It probably doesn't even represent what I think the best ten films of the year are. But it does represent the top ten films of the year which I've seen.
As always, opinion subject to change.
Don't @ me.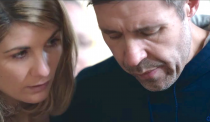 10. Journeyman
Paddy Considine proves yet again that he is as much of a force behind the camera as he is in front of it. For Journeyman he doubles up on creative duties, starring and directing. Matty Burton (Considine) is an ageing boxer who suffers a debilitating brain injury. The effects put a massive strain on his marriage to Emma (Jodie Whittaker) creating breath-taking conflict and uncomfortable tension. Considine and Whittaker's performances are excellent as Emma looks to inspire hope in the bleakest of times.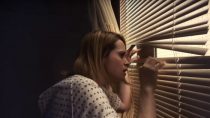 9. Unsane
When it was announced that Steven Soderbergh would be shooting his next movie entirely on an iPhone 7 Plus, it was easy to sneer at the concept as pretentious. Unsane proved this was no mere gimmick as the legendary director crafted an visceral horror that taps into the psyche. The limitations of the technology enrich the claustrophobic mood of the film as Sawyer Valentini (Clare Foy) finds herself trapped in a mental institution with a man she believes to be her stalker.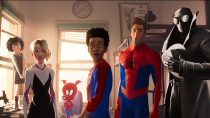 8. Spider-Man: Into the Spider-Verse
Bold, ambitious and an utter joy from start to finish. Spider-Man: Into the Spider-Verse presents the freshest and most original superhero movie in years. You may think you know Spider-Man but you've never seen him on the big screen like this as Peter Parker takes a backseat to new kid on the block, Miles Morales (Shameik Moore). The movie isn't afraid to poke fun at its live action counterparts as it retells familiar origin stories with an apologetic tone. Visually glorious with a solid script that presents characters we can invest in, Into the Spider-Verse also treats us with one of the best post credits scenes in history. Stay to the end.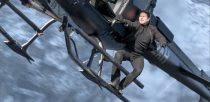 7. Mission Impossible Fallout
With six movies over two decades, the Missions Impossible franchise has rarely wobbled in quality with the latest instalment one of, if not the best, entry. Ethan Hunt (Tom Cruise) is back to defy death in spectacular fashion while saving the world set to an awesome theme tune. Director Christopher McQaurrie presents fantastic set-pieces with Cruise once again performing his own stunts, a move that elevates the dangers and increases the investment in the action. The Arc de Triomphe motorcycle scene is as thrilling a chase you'll see in movies with daring manoeuvres that will turn your knuckles white.
6. Halloween
Do we need another Halloween sequel? Yes, the answer is yes. This is a franchise that has refused to die and is yet to go out on a high so yes, fans deserve some restitution. Ignoring all the sequels, David Gordon Green's film is a direct follow-up to John Carpenter's 1978 classic. Set thirty years later, Jamie Lee Curtis returns as Laurie Strode to finish off Michael once and for all. History gets a little retcon treatment and the supernatural babble is binned to re-emphasise Michael as an evil force of nature. With enough homages to satisfy the hardcore, Halloween has the strength to stand alone in its own right.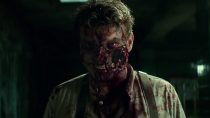 5. Overlord
The idea of Nazi super soldiers certainly isn't a new one but seldom has it been executed as wonderfully as it has been here. Overlord is joyous popcorn fodder that revels in its pre-code comic book violence and clichéd characters. With its influences emblazoned proudly on its sleeve, it ticks off homages while giving a courteous nod to the literature that made it the film it is. With a tight script, intense visuals and a likeable cast, Overlord is a fantastic slice of B-Movie action horror that makes no apologies for its gruesome violence and formulaic presentation.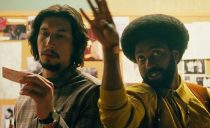 4. BlacKkKlansman
The remarkable true story of how black police officer Ron Stallworth (John David Washington) infiltrated the Ku Klux Klan. A hard-hitting drama that isn't shy or ambiguous in its message. At times it is indulgent (hi, Spike Lee) it remains captivating throughout, culminating in a thought provoking climax that highlights how scarily relevant the message is in the present day. Despite the tough subject matter, the movie has its humorous side with a few laughs sprinkled throughout the script. Andrew Driver also stars as Stallworth's partner, Flip Zimmerman, in an outstanding performance.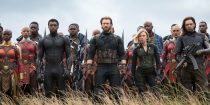 3. Avengers: Infinity War
It's been ten years since Nick Fury (Samuel L. Jackson) turned up to tell us that he was putting a team together (yes, I know you know but it needs mentioned.). Now, we get to see that team face their ultimate test as The Avengers take on Thanos (Josh Brolin) in a battle for the universe. With an ending that has already entered popular culture, this is a bleak and shocking story as Marvel wind down this chapter of their franchise. Exciting and thrilling battles play out before us while the emotional depth to the script will keep you on the edge of your seat and longing for Part 2 once the credits role. The story is not over yet, but what a way to prepare for the end.
2. Three Billboard Outside Ebbing Missouri
Seven months has passed since Mildred Hayes' (Frances McDormand) daughter was raped and murdered with no one brought to justice. Hayes erects a series of billboards near her home that questions and challenges the local police chief, Bill Willoughby (Woody Harrelson), as to why the case remains unsolved. Willoughby is upset by the billboards as are the townspeople, including his faithful subordinate, Officer Jason Dixon (Sam Rockwell), a violent racist with a drinking problem. McDormand presents a stoic and steady fury in a superb performance while Harrelson shows that Willoughby is a decent man despite his sins. Rockwell is incredible as Dixon, an utterly reprehensible character, his actions and views are vile, yet underneath there is a chance of salvation for a character that arguably deserves none. Three Billboards is morally challenging, raising questions about redemption and people's ability to change, even if they are, should they be forgiven? A compelling story with award winning performances.
1. A Quiet Place
Make a sound, and you die. A simple premise for a horror film that will play on your basic fears and keep you on edge, A Quiet Place is more than a mere gimmick movie. Director John Krasinski utilises the silence to create a nerve shredding tension that permeates the entire movie, not allowing its premise to dominate at the expense of the story. This is tale of survival but also of family. Lee has to protect his household while dealing with a teenage daughter that feels estranged from her father. All told with little to no dialogue, the cast are brilliant at conveying emotion through expression, reacting with panic to the slightest sound which in turn keeps us clinging to the edge of the seat. The inclusion of a traditional film score, by Marco Beltrami, heightens the tension where it could so easily be distracting. As Krasinski explained previously, the music reminds audiences that this is a movie and not a "silence experiment". Like all good horrors, a great score adds to the scares and it's no different here. The silence is only effective if it has something to play off of. It's difficult not to be reminded of cult B-Movie Tremors, however, the tone of the two movies are entirely different. In a way, this could be viewed as a gritty reboot of the fun monster movie; as entertaining as A Quiet Place is, it's not a comical yarn. The dangers are not funny and the threat is crafted to instil terror and is successful in doing do. Its ninety minutes running time ensures it doesn't overstay its welcome, while it will remain in your thoughts long after the credits have rolled.
Latest posts by Thomas Simpson
(see all)