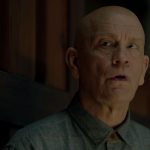 REVIEW CONTAINS MILD SPOILERS
Susanne Bier's made-for-Netflix thriller, Bird Box, has become something of a talking point over the festive period. In another weird internet craze, people are donning blindfolds and attempting to emulate Sandra Bullock's character of Malorie, as she seeks to make her way in some sort of post-apocalyptic world.
The film opens with Bullock, staring so earnestly in direct address at the camera she barely blinks, barking out orders with regards to keeping your blindfold on. Something so terrible is out there, you can't even look at it. Which is a rather exciting premise for a visual medium.
Cleverly, Bier never reveals the "beings" that have successfully wiped out the vast majority of the population; simply conveying the fear and overwhelming sadness in their victims' eyes. She certainly manages to create a real sense of tension and disorientation as the few survivors – including John Malkovich, Machine Gun Kelly and Moonlight's Trevante Rhodes – attempt to navigate a world in which they cannot be allowed to see.
There are some great central performances at the heart of Bird Box. John Malkovich stands out, as does Tom Hollander who provides a strange turn in the middle of the film. His character has no backstory, other than the one he provides, and proves to be one of the more interesting in the house. Jacki Weaver is criminally underused, but such can be the case with a slightly bigger ensemble cast.
Bullock seemed too overbearing and steely eyed with determination for my liking. We've all seen her play strong, level headed characters before but, this time around, it felt like a caricature of one of those performances. Her relationship with Trevante Rhodes character of Tom also felt like a little bit of a stretch. That being said, she absolutely excels at the physical demands of the role.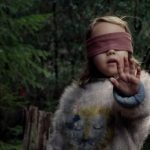 The action that takes part in the house was the most enjoyable. It was quick paced, it was logical, and it allowed for some decent violence. For me, it was the best part of the film, particularly with Malkovich and Bullock's characters continuously butting heads. There were a few genre tropes throughout – not just one but two pregnant women ­– but there equally enough new ideas to balance this out.
For me, the idea of the beings – whilst unsettling and tense – gave way to a few plot holes. Halfway through the film, I made a flippant remark which did, in fact, turn out the be the exact ending of the film. There is also the issue of some people – reputed to be mental patients – being able to survive eye contact with whatever is out there. Then, there are small points like three birds in a shoe box surviving nothing short of a drowning in a river. But that's just me.
On the one hand, it's completely understandable why people are swept up in the "blindfold" phenomenon presented by the film. On the other, I don't really feel that Bird Box merits all of the hype that it's generating. There is one really solid section of film – in the house, particularly when Tom Hollander is present – but the rest of the sequences seem quite weak in comparison.
As festive viewing goes, Bird Box certainly has something meatier to offer than the usual Hallmark Christmas efforts. The novelty might just wear off as the selection boxes are finished off.
Latest posts by Mary Palmer
(see all)