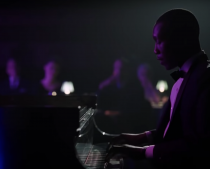 Peter Farrelly flexes his directorial muscles by taking on a serious topic in Green Book. Along with his brother Bobby, the Farrelly Brothers are known for some of the 90's best comedies in Dumb and Dumber, Kingpin and There's Something About Mary. Here, he takes the directorial credit alone, dealing with uncomfortable questions about race and giving us a peek at the Jim Crow South. While these topics are dealt with the respect one would expect, Farrelly saturates the film with a lightness that permeates a magnificent joy throughout.
Based on a true story, Frank "Tony Lip" Vallelonga (Viggo Mortensen) is a bouncer in New York City who finds himself looking for work. He lands an interview with the famous pianist Doctor Don Shirley (Mahershala Ali) who is looking for a driver to accompany him on his tour of the Deep South. As an African American, Don is naturally concerned for his wellbeing and needs a driver who can handle both himself and others should it come to it. Unfortunately Tony isn't the most tolerant of people himself and has his own prejudices that he'll be confronted with on the journey.
Green Book is a buddy movie, and a funny one at that. It's hardly a laugh fest but its light hearted humour allows for pleasant viewing. Not that it makes light of its subject matter, instead the tone of the movie ensures that the themes are accessible and enlightening. There may be a simplistic interpretation of racial issues however, at the core its values are blunt – don't treat people with disrespect and scorn just because their skin colour is different from yours. It doesn't pack a brute punch in the way 12 Years a Slave or BlackKklansman do and neither does it try to be these films. Its message is easy to digest and is conveyed through an entertaining and optimistic story. That's not to say it's not powerful, Ali plays the part with aloofness and pride. He knows he's of better stock than Tony but he knows his peers won't give him the same respect they would a white man. In one scene he yells at Tony, "So if I'm not black enough, and I am not white enough, then tell me… what am I!?" It's a rare moment of weakness and exposes how vulnerable Shirley feels in yet another outstanding performance by Ali.
The movie's biggest strength is in its casting. Ali and Mortensen have a wonderful chemistry and form a believable bond. Their friendship develops as both men realise they've misjudged the other as Tony is forced to witness how the world treats a black man while Don's insistence in fitting in with a certain class of society exposes his desire to hide his true identity. Racial tropes are played with and at times reversed, although the film isn't colour blind and confronts the harsh realities that people of colour have to deal with.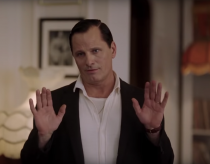 Written by Nick Vallelonga (Tony Lip's son), Brian Hayes Currie and Farrelly, Green Book is predictable and formulaic yet unashamedly so. Nick's contributions add an authenticity to proceedings, although events have been disputed by Shirley's family. As a story it's alluring and whether creative licence has been taken or not, it's difficult not to smile at the super cheesy third act finale of sheer happiness.
Green Book is a fun and thought provoking road trip that will look at the sights without stopping for too long at each one. There's a lot of depth to the story but it doesn't ask you to dwell on the issues too long that you might leave the cinema upset, instead it wants to celebrate what good can come from horrible views. A film with lots of heart, the two leads devise an inspiring bond that is an utter pleasure to watch.
Latest posts by
Thomas Simpson
(see all)