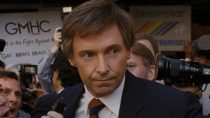 This week sees an upturn in the number of new movies hitting the big screen after the relative dearth over the holiday period. Coming to the fore are a number of films that we have been hearing about through their appearances at the various big name film festivals. Of course, these are the same films that will form a part of the conversation as and when the awards are handed out over the next two months.
Stan & Ollie
Although they were at one point the biggest draw in movies, time was a little cruel to Stan Laurel and Oliver Hardy. Long past their prime they undertook a music hall tour of the UK and Ireland in the early Fifties to bolster their reputation for future film projects and give them some much-needed cash. The film captures this period that turned out to be their farewell performances. Steve Coogan and John C. Reilly bring the icons to life with quite superb performances aided, In Reilly's case by a fantastic make up and prosthetics design.
Colette
Set in Paris at the start of the 20th century, the film tells the true story of an extraordinary woman. Convinced by her writer husband to ghost write for him, Colette produces a semi-autobiographical novel about a country girl. After its success Colette must battle for creative ownership of her work in the face of her overbearing husband and the constraints of society in terms of sexuality and everything else to do with life. Keira Knightly excels in the title role with a Dominic West in great for m as her husband Willy.
The Front Runner
In 1988 Gary Hart had the US political system at his feet. The democratic Senator was at the height of his popularity and was seen as being the ideal candidate for the president of the USA. The first three weeks of his campaign were to change everything as he was found to have had an extramarital affair with a young Lady, Donna Rice. For the first time tabloid and political journalism merged as the long norms of only ignoring anything that was did not have a political bearing were dropped in favour of newspaper sales and the fear of missing out on a juicy story. Hugh Jackman stars as the politician who is trying to survive on his belief that his message is more powerful than any sort of scandal.
The Upside
A remake of the 2011 French film Untouchable, this is based on the true story of a quadriplegic wealthy gentleman and the man he choses as his carer despite his lack of experience, qualifications and extensive criminal record. Bryan Cranston stars as the man who has no movement or feeling below his neck. He forms an unlikely bond with Dell (Kevin Hart) at a time when he has all but given up on life after his accident and the death of his wife. He wants nothing more than to left to die but finds an unexpected passion for life during his time with Dell.
Editor-in-Chief at Moviescramble. A Fan of all things cinematic with a love of Film Noir, Sci-Fi and Julia Roberts in Notting Hill. He hopes to grow up some day.
Latest posts by John McArthur (see all)