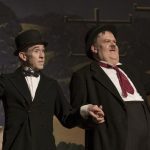 "I've got a feeling that no one wants to see Laurel and Hardy pictures any more." 
Two titans of cinema – Stan Laurel and Oliver Hardy – find themselves in the twilight years of their career. Despite being two of the biggest stars in the world in the 1930s, the pair find themselves embarking on a tour of the UK as they seek to pay off various wives and gambling debts. They didn't get the "same deal that Chaplin got" and, therefore, find themselves in need of money. However, twenty years after the peak of their career, is there much interest in the comedy duo?
So much has changed for the slapstick performers. Their reunion – after sixteen years apart owing to what appears to be a falling out – is not as hotly anticipated as they might think. Their particular style of humour is no longer drawing top billing. Their tour across the UK seems doomed to failure – tiny venues are barely half full and audiences are convinced they are in retirement. Coupled with a smarmy agent (Rufus Jones), who is more interested in promoting new acts, like Norman Wisdom, the tour seems like another fine mess they've gotten into.
Jon S. Baird's film is an unexpectedly brilliant watch. Touching, interesting and simple. No tricks or stunts, just a simple homage to an era that was equally without show. The film opens in 1937, with the pair at their peak, filming a comedy western, then quickly heads towards their tour of Britain and Ireland in 1953.  The pair are supposedly touring in order to drum up interest and financial support for a film about Robin Hood, but it's clear that Hollywood – and the British film industry – is intent on shutting it's doors on the double act.
Had his name not been on the poster, I wouldn't have even recognised John C. Reilly. As well as being buried under a mass of prosthesis, Reilly absolutely embodies the ham-fisted comedy of Oliver Hardy. Equally brilliant is Steve Coogan. He gurns, he messes up his hair, he ducks his neck and raises his eyebrows – he is a perfect image of Stan Laurel. The duo's famous Dance of the Cuckoos is also executed step for step like the original.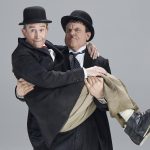 The supporting cast, namely Shirley Henderson and Nina Arianda, as the pair's third wives, are excellent. Arianda, in particular, is incredibly funny; delivering witty one liners in a thick Russian brogue and pulling facial expressions almost as funny as her husband's. Rufus Jones is excellent as the grubby theatrical agent, Delfont, whilst Danny Huston makes a brief but impactful appearance as studio owner, Hal Roach. The film also makes clear the power of the various Hollywood studios and the contracts they imposed on their stars – Laurel & Hardy made absolutely no money from re-runs of their many films.
You don't need to be a massive Laurel & Hardy fan to enjoy the film, either. To some extent, it's merely an examination of friendships, career and laughter. The film is rich and bold with humour when it needs to be, but equally gentle and emotional. It's not skit after skit. But, when Reilly and Coogan do take on the great duo's work – be it dropping a suitcase down some stairs or the "two door routine" – it is still really funny. Perhaps that is the greatest coup of all for the pair who thought their star was fading.
The title cards at the end of the film acknowledge that, after Oliver Hardy's death, incessant workaholic Stan Laurel kept writing new material for the pair until he passed away himself. A testament to the unique bond the comedy odd couple had and, perhaps, a desire to prove that they could still be fresh and relevant in an ever-changing entertainment industry.
Whilst there are some plot points missing (for example, how and why did they get back together after so long apart?), it doesn't take away from the sheer joy of watching the film. Like many of the famous comedy duos in cinema and television history, Laurel and Hardy's work will be remembered and celebrated … "long after you've finished your hot dog."
Editor at Moviescramble. European cinema, grisly thrillers and show stopping musicals are my bag. Classic Hollywood Cinema is comfort food. Spare time is heavily dependent on a lot of pizza and power ballads.
Latest posts by Mary Palmer (see all)