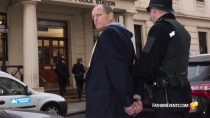 Get ready to bring home a cinematic experience like no other. Shot in a single take and broadcast live to over 500 cinemas across the world, Woody Harrelson's directorial debut LOST IN LONDON, starring himself, Owen Wilson, and Willie Nelson, takes audiences on a none stop thrill ride through Soho reliving one of the worst nights of Harrelson's life. This experimental, first of its kind, comedy is available for digital download February 25th and on DVD March 4th 2019.
Loosely based on a fateful London night out that landed Harrelson in Jail in 2012, the film co-stars Owen Wilson and Willie Nelson as parodies of themselves. Having been booted out by his wife for an alleged yet highly publicised orgy, Harrelson finds himself in a Soho bar with best friend Owen Wilson. Events unfold which lead to him ending up in the back of a police car. Join Harrelson as he re-enacts in real-time one of the worst and funniest nights of his life.
LOST IN LONDON is a one of a kind hilarious experience which blew audiences away during its live screening, and can now be enjoyed again and again when it becomes available for home viewing on digital download February 25th and on DVD March 4th 2019 from Signature entertainment.
Latest posts by
John McArthur
(see all)