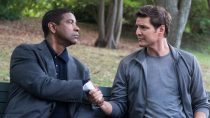 After a prolonged period where there was very little movement at the top of the chart, a couple of new releases have shaken things up a bit. With just two days of sales, The Predator has gone straight to Number 1 on the Official Film Chart, hitting the target on downloads alone.
In The Predator, the universe's most lethal hunters are stronger, smarter and deadlier than ever before, and a medley team of ex-soldiers and a biologist team up to defeat this new threat and save the world. Leading its closest competition by nearly 10,000 sales, the newcomer's brilliant performance pushes 2018's top seller The Greatest Showman to 2 and Mamma Mia! Here We Go Again to 3.
Mission Impossible: Fallout climbs one place to 4, and rounding out the Top 5 is The Equalizer 2, up two places. M. Night Shyamalan's 2000 epic Unbreakable, starring Bruce Willis and Samuel L. Jackson, breaks into the Official Film Chart for the first time, impacting at Number 8 ahead of the cinematic release of its final sequel Glass. It's followed close behind by Keanu Reeves thriller Siberia which makes a cool debut at Number 9.
Elsewhere in the Top 20, A Quiet Place climbs four rungs to Number 11; The 12th Man makes its first Film Chart appearance at Number 18; ice-age adventure film Alpha enters at Number 19. This week's Official Film Chart online show features a teaser of 2018 hit romantic comedy Crazy Rich Asians, available to download and keep now and to buy on Blu-ray & DVD from January 21.
Editor-in-Chief at Moviescramble. A Fan of all things cinematic with a love of Film Noir, Sci-Fi and Julia Roberts in Notting Hill. He hopes to grow up some day.
Latest posts by John McArthur (see all)