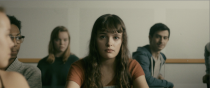 Producer Johan Lundström and Director Jonatan Etzler's live action short film Get Ready With Me is an unpredictable thriller that combines grim satire with the topical issues of teen angst, social media and fame. The film stars Swedish Academy Award winner Shanti Roney and newcomer Miriam Benthe.
The short film focusses on aspiring youtuber Vendela as she decides to get up in front of her high school class and show a disturbing video that disrupts the lesson and causes her teacher Lukas to fear for her life. It tackles, head on, the growing obsession with social media and how there is a very real dark side to all of it.
Get Ready With Me was written by Amanda Högberg and Axel Nygren, the cinematography was created by Nea Asphäll and the music by Andreas Ahlm. This award-winning film has qualified to be considered for a 2019 Oscar after winning the Student Academy Gold Award.
Latest posts by
John McArthur
(see all)