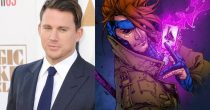 Fans have waited so long for a Gambit movie that many forget Channing Tatum is attached to play the card throwing Cajun. Originally cast in 2014, Tatum's involvement has been one of the few consistent factors in a movie that's languished in development hell for many years. The proposed February 2019 release date is looking a little ambitious right now, however with no director attached rumours suggest that Tatum himself will step behind the camera.

Unfortunately the movie's status has a huge question mark hanging over if with 20th Century Fox's superhero properties soon to be in Disney's hands. A Gambit standalone film does seem inevitable and with Disney bringing Phase 3 of the MCU to an end, there's room for some new additions to their ever growing slate.
Whether Tatum will still be interested by then remains to be seen, but never say never in Hollywood, considering Nicholas Cage was rumoured for the lead role in Ghost Rider for the best part of a decade before it eventually saw the light of day in 2007. Granted the film wasn't great but Marvel's track record speaks for itself and with Gambit being such a fan favourite, it's difficult to see them drop the ball.
Source: Deadline
Latest posts by Thomas Simpson
(see all)