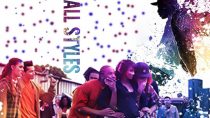 Coming soon to VOD is the new dance battle movie All Styles. Starring Dushaunt "Fik-Shun" Stegall, the winner of So You Think You Can Dance and Heather Morris, the film sees a crew of mis-matched dancers challenge convention and shake-up the world of competitive dance.
Struggling in his freshman year of college, Brandon (Dushaunt "Fik-Shun" Stegall) tries to focus on his studies but keeps coming to the same conclusion: dance is his passion. His geeky roommate, Nate, proposes they start a dance crew, but their search for other freestyle dancers proves disastrous. So they expand their search, finding a break-dancer, a performance artist, a bhangra dancer, an animator, a ballerina, and a ballroom dancing mom willing to join the new crew. Can such a strange and disparate crew cut it in the highly competitive world of dance? Brandon is determined to find out!
All Styles is out on digital download on the 11th of February.
Editor-in-Chief at Moviescramble. A Fan of all things cinematic with a love of Film Noir, Sci-Fi and Julia Roberts in Notting Hill. He hopes to grow up some day.
Latest posts by John McArthur (see all)