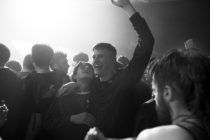 Set in Scotland in 1994, Just as the Criminal Justice Bill attempted to place restrictions on the UK's rave culture and the free party movement, Beats is a story of friendship, rebellion and the irresistible power of gathered youth.  A universal coming of age story, set to a soundtrack as eclectic and electrifying as the scene it gave birth to, Beats is a story for our time.
Best mates Johnno and Spanner (Cristian Ortega and Lorn Macdonald in their feature film debuts) share a deep bond.  Now on the cusp of adulthood, life is destined to take them in different directions – Johnno's family are moving him to a new town and a better life, leaving Spanner behind to face a precarious future.  But this summer is going to be different for them, and for the country. The explosion of the free party scene and the largest counter-cultural youth movement in recent history is happening across the UK.
Directed by Brian Welsh  and written by Welsh and Kieran Hurley (based on Hurley's play by the same name), the film also stars Laura Fraser and introduces a talented ensemble cast including Brian Ferguson, Ross Mann, Gemma McElhinney, Amy Mason and Rachel Jackson.
The Beats soundtrack is curated by Scottish club legend JD Twitch (Optimo) and features tracks from The Prodigy, Lee 'Scratch' Perry, The Belleville Three, Carl Craig, Hudson Mohawke, Leftfield, Plastikman, LFO an exclusive re-record by Orbital and original score by The Golden Filter.
It received its World Premiere at the Rotterdam Film Festival on Thursday 24th January, followed by the North American premiere at the Slamdance Film Festival on 26 January.  It will receive its UK premiere as the closing night film at the Glasgow Film Festival on 3 March and play at the Dublin International Film Festival on 2 March.
Altitude's head of theatrical, Lia Devlin said, "Beats is an infectiously euphoric and spirited coming-of-age film that marks the introduction of a huge new talent in director Brian Welsh. It works both as specific document of one of the most important youth culture movements ever seen and also as a timeless reminder of the joyfulness in having a good time with your friends."
Beats will be in cinemas across the UK and Ireland on 17 May.
Latest posts by
John McArthur
(see all)