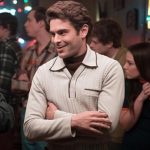 "I'm more popular than Disneyworld." 
Zac Efron is truly shedding his Disney roots in Joe Berlinger's biopic. The Greatest Showman star seems a perfect fit for the blue eyed, charismatic Ted Bundy, the man who just didn't look like a serial killer.
The trailer suggests that – not unlike Marc Meyer's My Friend Dahmer, starring fellow Disney channel alumni, Ross Lynch – that the film won't be going into too much detail about Bundy's notorious murder spree. Instead, it will be focusing on his life of seeming domestic bliss with long-term girlfriend, Elizabeth Kloepfer (Lily Collins) and the media circus surrounding his sensational 1979 trial, wherein Bundy used his good looks and political savvy to represent himself.
Efron does seem to be really enjoying himself in the role. Already, in this short teaser, there are many knowing looks to camera and a cheeky wink that says "You couldn't think I did all this?"
There was some confusion as to why the Bad Neighbours heartthrob would be cast in such a role but it looks like Berlinger's film will go out of its way to highlight the charm, chat and chivalry that Bundy used to lure his unsuspecting victims to their deaths. Bear in mind that he did once work for a suicide prevention hotline …
Premiering at the Sundance Film Festival, the film also stars John Malkovich, Haley Joel Osment, Jim Parsons and Metallica's James Hetfield.
Extremely Wicked, Shockingly Evil and Vile is yet to secure an international release date.
Latest posts by Mary Palmer
(see all)