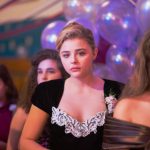 1993 doesn't exactly feel like a lifetime ago. And yet, it's amazing how different things are. In Desiree Akhavan's film – set in the not too distant past – being gay is very much a problem. Especially for Cameron Post (Chloe Grace Moritz), who has just been caught having sex with her girlfriend in the back of a car on prom night.
She's sent, by her aunt, to "pray the gay away" at the misleadingly named God's Peace study camp where she meets a range of truly tortured teens hoping that salvation will step in so they can stop being a source of shame for their parents.
I think, because it's not set in the 1930s or 1950s, I found this film a particularly hard watch. I was very much around in the early 90s and it's frightening to think of gay teens being subjected to such extreme conversion therapy in an era that was also celebrating boundary pushing, LGBT cinema, such as Boys Don't Cry. And yet, here Cameron finds herself – in the middle of the woods, with no support network, being constantly reminded of her "sin".
Chloe Grace Moritz gives a wonderful central performance as a young woman struggling with the labels being placed upon her by allegedly Christian adults. The whole set up of the camp will give you the creeps – corny country hymns, a whole bunch of uncomfortable group therapy and, perhaps the best bit, "blessercise".
Jennifer Ehle is thoroughly wicked as the camp director, Dr. Marsh, an emotionless droid of a woman who takes pleasure in humiliating her wards and reminding them how shameful their "SSA" (same sex attraction) is. The emotional torment inflicted on these teens is well acted by the young cast, particularly Owen Campbell as Mark. His scenes, towards the end of the film, are absolutely heartbreaking.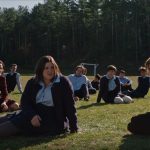 And yet, despite all of this, Cameron manages to forge friendships with the pot-growing Jane (Sasha Lane) and Adam (Forrest Goodluck). The unlikely trio offer each other hope of normal life beyond the camp and a feeling of much-needed acceptance.
It's a film that navigate its emotional subject matter well. There are moments of pure joy – watching Cameron sing along to 4 Non Blondes – and moments of utter desolation. There is raw, unadulterated passion. There is complete emptiness. It's not your typical, preppy high school experience – which is where 2018's Love, Simon fell down as it did not feel like an honest addition to the LGBT narrative.
Desiree Ahkavan has created a really warm, perceptive piece of cinema, with Chloe Grace Moritz giving a subtle, nuanced performance at the heart of it.
Latest posts by Mary Palmer
(see all)