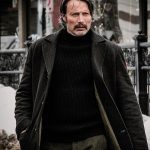 Polar, the latest feature length release from streaming giant Netflix, is probably going to fall into either love it or hate it camps for most viewers. The brutal ultra violence on show will leave some just feeling disgusted and others gleefully delighted. Consider me with feet firmly camped in the latter.
Directed by famed music video director Jonus Akerlund, whose decades long history of work includes such varied artists as Madonna; U2 and Rammstein, this rare foray into feature length film making is, in all honesty, a case of style over substance. But if the style is entertaining, that's not always a bad thing.
Plot wise, it's your basic good old revenge tale. Ageing hitman Duncan Visla (Mads Mikkelsen), aka The Black Kaiser, is nearing retirement. He just wants to disappear into the cold mountains of Montana with his $8 million pension. It's there he meets his neighbour Camille (Vanessa Hudgens) a nervous, quiet woman he quickly grows fond of.
The company he works for is run by the sadistic Mr Blut (Matt Lucas). He has a policy in place that, if an agent dies before his official retirement, any money owed goes back to the company. Being the wily old pro he is, Duncan anticipates that he won't quite be granted the early retirement he dreams of. Camille is kidnapped in the process and thus sets Duncan on his quest. Violence follows. It's basic and by the numbers, but it doesn't pretend to be anything other than that. It sets its stall out and lets you come along if you want too.
Now, for full disclosure. I'm a big fan of Mads Mikkelsen.  He's one of those actors I just gravitate towards and seem to love in everything he's in. I'm an unashamed fanboy, but that won't corrupt my reviewers objectivity. So, believe me when I say, he's perfectly suited to the role of an unassuming killer who still has a glimmer of morality in him. A man of few words, he gives Duncan a stoic outer shell but with a load of simmering emotion just underneath. Not as easy as it might appear to pull off convincingly, but Mikkelsen carries it off seamlessly.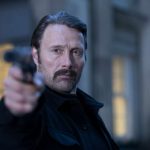 He might not have the physical presence of a Stallone or a Schwarzenegger, but he still effortlessly gives off a vibe of  'do not fuck with this man'.
Vanessa Hudgens gives the film some real warmth amidst all the cold brutality. Her character is a sensitive soul who is carrying the weight of a traumatic past with her at all times. She's quirky and very likeable, and the early scenes of her and Duncan awkwardly interacting and getting to know one another are very charming. Matt Lucas has a ball as the pantomime villain of the piece. Looking like a cross between Elton John and Curly Watts from Coronation Street (Google him younger readers) he hams it up wonderfully. It essentially feels like an 18 rated version of a Little Britain character, but he does it well.
Of the crew of younger assassins on the hunt, no one really stand out in particular. Ruby O. Fee's "honey trap", Sindy, is probably the most memorable. Although, veterans Richard Dreyfuss and Johnny Knoxville pop up in entertaining cameos.
Calling on his music video background, Ackerlund ensures Polar is always visually appealing. Strong and vibrant reds, blues and yellows pierce through the screen, giving proceedings a comic book-style look. Which makes sense, seeing as the story is based on a graphic novel. Renowned DJ Deadmau5 provides a decent, edgy soundtrack. So, overall, it's a neat little package.
All that being said, in terms of the hitman sub-genre, Polar, admittedly, doesn't stack up too well. It doesn't have the gravitas or soul of Leon or the quirky, clever humour of In Bruges. It's more of a balls to the wall, Tarantino-esque violence fest. Many will hate it. It has so far reviewed poorly with many established outlets, who seem to just have a distaste for the violence.
But if like me, every so often you like to leave your brain on standby for a couple of hours and enjoy some OTT stylised brutality then you could do far worse than Polar.
Latest posts by David Logan
(see all)