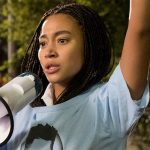 As opening scenes go, The Hate U Give offers up something pretty stark. A father, educating his nine, ten and one year old children as to what to do if they are ever in a car that gets pulled over by a cop. Keep your hands on the dashboard, he reiterates, instructing his scared offspring to lay their hands out on their kitchen table and mimic what he is telling them. It's frightening and tense, but also fuelled by a strong sense of parental love and duty.
And, as a white British citizen, it's nothing I've ever had to think about. And yet, for so many young African Americans – whether they are wearing a business suit or a hoodie – this is an every day reality. An every day fear. Because one wrong move, one misplaced hand on the dashboard, is quite literally the difference between life and death.
The film – which takes it's title from Tupac's THUG-LIFE (The Hate U Give Little Infants Fucks Everybody) – centres around the teenage Starr (Amandla Stenberg), who divides her time between her all-black neighbourhood of Garden Heights, where drugs and unemployment are rife and her majority-white high school, where teenage girls think that watching Straight Outta Compton makes them more relatable. Ditching her white boyfriend for a neighbourhood party one weekend, Starr becomes the only eye-witness in the fatal shooting of her childhood friend, Khalil (Algee Smith), at the hands of a white cop.
The film sets everything up fairly neatly and quickly – we are given a clear distinction between Starr at school and Starr at home. She doesn't see herself as the same as all her white peers but doesn't fit in with the partying and gangs at home, either. The shooting of Khalil is horrifying in its brevity. Starr, hands on the dashboard like her father instructed, is powerless to save her friend from yet another trigger-happy cop. It's shocking how quickly life can be extinguished.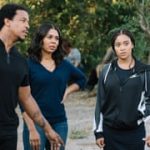 The ensuing pressure on Starr makes up the rest of the plot. Social action groups want to capitalise on her testimony to encourage a trial; her school friends feel sorry for the cop, who has been removed from active duty; her parents don't want her helping out the police. There is a lot of conflicting advice from the adults around her, with the added stress of the local drugs lord, King (Anthony Mackie) threatening her entire family should she co-operate with the police.
It's a complicated web of events for someone who is, ultimately, still grieving and still torn between her "two selves". Amandla Stenberg, as Starr, puts in a tremendously emotional performance – full of life and loss; full of fire and passion. She hates that her school mates use a Black Lives Matter march as an excuse to skip class; but she also hates that Garden Heights is so full of poverty that drugs running is the only viable career option.
There are a lot of great performances in the film – rapper Common appears as a black cop who is equally torn between his job and his race. Russell Hornsby puts in a stoic, powerful performance as Starr's dad, Maverick.
There are a couple of pacing issues as the film struggles through its second act, but things escalate pretty quickly again towards the last half hour. There are protests and clashes with police as the black community struggle to come to terms with another unnecessary death. There are riots and fires and beatings. The tension – and the division – is palpable. Watching Starr and her brother, Seven (Lamar Johnson) fight their way through smoke bombs and riot shields, in order to reach safety is scary. No wonder they are emotionally exhausted by their experiences – and they haven't even finished school.
The final showdown with the local police is a real shock to the system, and truly embodies what Tupac was singing about. As adults, we are a mirror for our children, and they will grow up with the same behaviours and prejudices that we embody if we are not careful.
The Hate U Give is a really good piece of "awareness" cinema. Although we regularly hear of shootings on the news, this film puts you right at the heart of the experience. It's not always pleasant, but it's truthful and emotional.
Latest posts by Mary Palmer (see all)