Echoes of Troye Sivan's song Revelation permeate Boy Erased. A few twinkling piano motifs here; a chorus there. It's a really haunting piece of music, which is perhaps fitting for a film that is so wrapped in faith, personal 'demons' and restraint. Joel Edgerton writes, directs and stars in the page-to-screen adaptation of Garrard Conley's memoir of the same name, dealing with his time in an Arkansas gay conversion therapy unit.
On the surface, Jared Eamons (played by the truly wonderful Lucas Hedges, who is as excellent here as he was in Lady Bird) has it all. He's in the basketball team in high school, he's secured a place in college, he has a sweetheart girlfriend. He's being raised in a large house, where his quintessential Southern homemaker mother (Nicole Kidman) and pastor-come-car salesman father (Russell Crowe) have instilled in him a distinct set of moral guidelines.
And that's just it. So much of this film is happening below the surface. It's a film that positively ripples with simmering tensions and forbidden love. Lingering glances across rooms; hands frightened to touch; feelings of anger and betrayal. Edgerton has created something almost entirely executed through subtext, with the restrained nature of the film a metaphor for repressed sexuality itself.
Jared finds himself being sent to the God in Action conversion centre owing to a traumatic incident in his college dorm room. Perhaps the narrative of intertwined homosexuality and victimhood will not be well received by some, but I think Edgerton navigates it sensitively. It's incredibly hard to watch, and subsequently forces Jared to "out" himself to his Baptist parents, who immediately think prayer and study will "cure" him.
Similar to The Miseducation of Cameron Post, which we reviewed on the site a couple of weeks ago, Jared arrives at a camp which encourages self-loathing and the denying of the true self. It's run like a military training base by Victor Sykes (Edgerton) and the odious, sniggering Brandon (Flea), who seem to think that anger, sports and gay slurs are the way to conversion success.
It's a truly terrifying environment with mixed results. Some participants weep with shame at their "sin", others are simply faking their guilt until they can work out a way to leave. Either way, it's not exactly a glowing depiction of Christianity.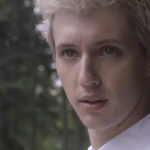 As well as Hedges' virtually perfect central performance, the supporting cast are equally brilliant. Russell Crowe is everything you'd expect of a harsh, Southern preacher who only sees the world in black and white; sin or virtue. Britton Sear gives a powerful performance as Cameron; a boy who has so completely lost himself in the conversion programme. Xavier Dolan and Troye Sivan – despite not having a lot of dialogue – add another layer of nuance and emotion to the film.
And, even though I confess that I do not rate Nicole Kidman, I really enjoyed the character arc that she underwent. I'm not sure how accurate the speed of her "revelation" was – it did seem like Edgerton was forcing some of the third act – but she was perfect at portraying the hairsprayed homemaker, blindly following the dictates of the men in her life. I also particularly enjoyed the ongoing joke about sticking your hand out of a car window.
The film is well paced, and absolutely simmering with everything that is going on under the surface, but I do feel like it rushed the final act for the sake of tying everything up neatly. It actually wouldn't have made too much difference if the action was left more open ended, owing to the pre-credit "notes" at the end about the the real Garrard Conley and some of the other names in the film.
Edgerton has certainly taken a massive leap – in terms of cast, production and subject matter – from his directorial debut, The Gift, and continues to convince as a director and actor.
Boy Erased is a powerful piece of cinema that examines the balance between faith and self.
Latest posts by Mary Palmer
(see all)