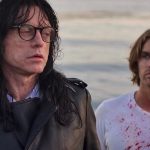 This is not a drill! Tommy Wiseau is back with another feature length film. Clearly buoyed by the success of The Disaster Artist, the best worst filmmaker in recent history has set his sights on a classic disaster movie about … You guessed it, a Big Shark.
The teaser was seemingly leaked from a German website and has quickly garnered attention. It opens with Wiseau's trademark "Oh, hai!" before some barely audible night out scenes unfold. All of a sudden, Greg Sestero is getting slapped in the face from two terrible actresses. And we're only getting started.
Walking home from their night out, Wiseau and his crew (Sestero and Isaiah LaBorde) suddenly – and I do mean, within seconds – find themselves knee deep in water. In the background … a Big Shark.
The CGI looks terrible but, actually, this looks like it might be more fun than The Meg. The trailer ends with Wiseau screaming (presumably being chomped on by said shark) and questioning "What is it?"
It's a Big Shark, Tommy. Can New Orleans survive?
There is no official release date set for now.
Editor at Moviescramble. European cinema, grisly thrillers and show stopping musicals are my bag. Classic Hollywood Cinema is comfort food. Spare time is heavily dependent on a lot of pizza and power ballads.
Latest posts by Mary Palmer (see all)