To say the production of Bohemian Rhapsody has been troubled would be to state the bleedin' obvious. While it's not uncommon for films have a troubled start, the Queen biopic has been plagued with issues from conception to awards season. Creative differences saw the movie go years without a lead while director Dexter Fletcher was brought in to complete the film after Bryan Singer left during filming. Singer's own controversies surrounding allegations of sexual abuse has cast a dark net over the film with his name absent from any thank you speeches. In the eye of the storm is the story of one of Britain's most iconic bands, centred on the legendary frontman, Freddie Mercury (Rami Malek). It's a tragic tale full of inspiring events with a well-known ending, except Bohemian Rhapsody tells the story you might not know, although to be fair that's because it's historically inaccurate.

Of course there is nothing wrong with taking a little creative licence when it comes to producing a movie based on real events. It's expected and at times necessary in order for the story to flow. Real life doesn't always follow a three act structure and audiences are, for the most part, understanding of tweaks here and there. Screenwriter Anthony McCarten takes more than a few liberties with the truth, and while that might annoy fans of the band, others may not be aware. It works emotively, but this isn't fiction, it's based on a real man and his real issues.
The story, rightfully, focuses on Mercury. Despite entering into a relationship with Mary Austin (Lucy Boynton), Freddie questions his sexuality, pondering if he's bisexual while Mary assures him he's gay. This makes him a target for the tabloid media as Freddie gives them ammo with his party lifestyle and hostile attitude towards them. Malek portrays Mercury with vulnerability. Arguably the greatest frontman to ever take to the stage, privately he was a lonely individual. Malek is incredible, his mannerisms and movements brings Freddie to life in what's an outstanding performance. Boynton is great as she offers a sympathetic yet firm moral compass to Mercury. The supporting cast for the most part are spot on with Gwilym Lee as Brian May, Ben Hardy as Roger Taylor and Joe Mazzello as John Deacon making up the rest of the band. They offer fine performances, but like in reality, their personalities are overshadowed by Malek's magnetic charisma.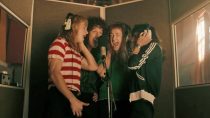 The plot is pedestrian with the filmmakers opting to play this rock and roll drama safe. The movie lacks a little cinematic quality and is only elevated by its cast. It's hard to argue with the soundtrack, the music is incredible and sounds excellent in the theatre. It's the best reason to have watched this in the cinema with the Live Aid performance in particular sounding absolutely epic. Yet, it's not enough to convince me that this is a good film. I enjoyed it and left the cinema with a huge grin, but I feel the same would've happened had they just blasted their greatest hits in the hall.
The end result is a movie that revels in self-indulgence while retelling its story through a self-revisionist prism. It's a middle of the road biopic that does little justice to such a towering band with a much better story than is told here. When it hits the right notes, it's rousing, however once the feedback fades the film is revealed for what it is and its faults become evident.
Latest posts by
Thomas Simpson
(see all)