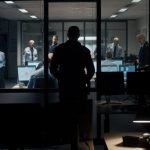 Real-time, one location movies have often been the setting of choice for low-budget indie flicks or European horror. The emergency services contact centre is usually the subject of documentary series. Gustav Moller's The Guilty (Den Skyldige) combines both to create an incredibly tense thriller, with some truly shocking reveals throughout. It really does go to show that simple, human reactions are enough to fuel a plot.
Jakob Cedergren stars as Asger Holm, a former beat cop who finds himself processing calls, owing to an outstanding court case. It's just after 11.30pm; he's bored; and there's a plethora of drunks phoning in with various injuries. It's clear that Asger would rather be back pounding the streets, instead of trying to decipher which prostitute has robbed her latest customer.
His regular glances at his watch give the film a weird sense of urgency from the outset. It's almost like you're willing him to reach the end of his shift and yet, you're not sure why. Time, as Asger soon learns, is going to be incredibly important to the rest of the night. A call about a mother abducted by her ex-husband – leaving two young children at home – soon becomes a frantic and desperate search for the truth.
What's so thrilling about The Guilty is that the camera never leaves Asger's side. Therefore, every call he is on, every bit of information he is chasing is revealed to the viewer at the same time it is to him. We can't see what's going on across the city – we are relying on the information and descriptions offered by the callers. As a call handler, he is expected to be dispassionate, and yet we – like Asger – want answers and updates.
Cedergren puts in an excellent performance – truly carrying the entire film. Jessica Dinnage puts in an emotional and vulnerable vocal turn as the abducted Iben. Even more heart wrenching is hearing the voice of Mathilde (Katinka Evers-Jahnsen), Iben's six year old daughter, calling the police hotline to beg for her mother's safe return.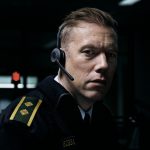 There are only ninety minutes in the film's run time and, at times, these feel agonising as we wait alongside Asger for someone to call back or for information to come through. Every time the red beacon lit up to indicate an incoming call, my heart positively fluttered.
There are two moments in this film where I actually gasped out loud. The plot moves along fairly swiftly – you can almost feel the second hand of Asger's watch ticking away – and, when it goes for the big plot points, they certainly pack a punch. It's a really well executed script; with the tight close ups of Asger's increasingly sweaty face only adding to the tension.
As the plot unravels, questions of guilt and morality; help and interference start to swirl. But it's never done in a cliched way. The plot twists are genuine and have great shock value as Asger continues to blur the boundaries of his position in the control room.
Allegedly, there are already talks in place for Jake Gyllenhaal to star in an English-language remake of the film. Which is a shame – not because Gyllenhaal is incapable of carrying such a film – but because this one is so good in its own right, it deserves to be seen by more people.
The Guilty is a superbly tense thriller that demonstrates, quite aptly, that you don't need a large, starry cast and reams of CGI to create a really brilliant piece of cinema.
Editor at Moviescramble. European cinema, grisly thrillers and show stopping musicals are my bag. Classic Hollywood Cinema is comfort food. Spare time is heavily dependent on a lot of pizza and power ballads.
Latest posts by Mary Palmer (see all)