For the opening film of the 2019 Glasgow Film Festival the choice is somewhat unusual. Not with the content, rather the type of film that it is and the fact that it is a low key drama that doesn't really fit into the Opening Gala mold. It is a bold choice to herald the start of festival and its choice marks makes a statement as to what to expect over the next ten days.
Mid90s is a coming of age drama from first time director Jonah Hill. It follows one summer in the life of thirteen year old Stevie (Sunny Suljic). He's had a tough time at school all year. He has no friends and his home life is a mess due to his relationship with his psychotic older brother (Lucas Hedges). He takes an interest in skateboarding ans starts to hang about a local shop where a group of skaters hang out. He gets into their company and during the skating and hanging out he starts to get a taste for the lifestyle including the drink and drugs. This of course raises tensions at home and his mother starts to question what he is doing.
This is an accomplished and confident debut from Jonah Hill. As with the advice given to any aspiring writer, he took his inspiration from his own affection for skateboarding during his teenage years. The mix of a strong story and the way in which it is brought to the screen makes the film an interesting watch. The story itself has been done before. A coming of age drama tends to follow certain beats and this film is no exception. What makes it a little different is in the casting and the overall vibe.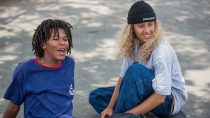 To place the burden of a complicated lead role on the shoulders of a young actor is a big ask. That is what Mid90s demands of actor Sunny Suljic. He has had a limited filmography to date and nothing near to the scale of this performance. He has to convey so many different facets of the character. He more than pulls this off and is a compelling screen presence. He gives a measured performance that is beyond his years and it it this more than anything else that keeps the audience engaged.
The film deals with how difficult it can be for kids growing up. The problems with feeling that you belong is explored in several different ways. Stevie is an outsider. He is a social animal but finds it difficult to join in. It's only when he hooks up with the skate crew that he starts to feel like he belongs. He sees what he wants to be in the slightly older kids. They have a certain credibility to them that is attractive to Stevie. He is trying to avoid being on his own with no friends. His older brother, Ian, is in that situation and Stevie has had a front row seat in the decline in the confidence of his brother over the years. He sees how Ian's frustration manifests itself in anti social behaviour and tendency to use violence to express himself.
The film follows Stevie but doesn't wallow in despair at any point. There are highs and lows within the drama and the they are presented without any comment or bias. What is shown is the rich diversity that Stevie is exposed to. Skateboarding attracts all types of people and there is no seeming bias towards any particular group. Early on in the film the skaters are confronted by a security guard. He starts having a go at the black kid, telling him that he has no business skateboarding. It's not for him, it's a white boys thing. He gets a firm rebuttal from the entire group as they don't see any colour differences but instead see the elements that hols them together as a group, primarily the love of skateboarding.
To achieve an older vibe the director made several stylistic choices. The film is shot in 4:3 ratio which narrows the frame makes sure that the dram feels more intimate. It appears to be shot on 16mm film giving that slightly rougher feel to it. It is filmed mostly using hand held camera which enable to audience to be an integral part of the drama. It is up close and personal at times which coupled with the decision to avoid fast cuts lend itself to the overall laid back tone. Bubbling underneath is an enjoyable era appropriate soundtrack which just finishes things off nicely.
Mid90s is a very good film and an impressive directing debut for Jonah Hill. It will be interesting to see where he goes from here.
Editor-in-Chief at Moviescramble. A Fan of all things cinematic with a love of Film Noir, Sci-Fi and Julia Roberts in Notting Hill. He hopes to grow up some day.
Latest posts by John McArthur (see all)