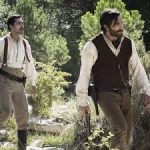 In so many ways, The Sisters Brothers isn't your typical Western. There isn't an over abundance of violence; there are no Native Americans or other ethnic groups drafted in as a perceived threat; there is no romanticised view of life in the old west. And yet, at the same time, Jacques Audiard's English language debut does adhere to many conventions of the genre. This is a strong, male led film where women are either inn keepers or whores; there is a lot of travel and landscapes; there is the chance to prospect for gold.
It's also a classic re-telling of a cat-and-mouse chase, and that's what makes it so thrilling. There were so many moments throughout the film where you genuinely will have no idea who is screwing who over or if something pretty terrible (or violent) is about to happen. It's also about familial relationships and friendships, which were no doubt hard to maintain and express in a world where men where expected to be hardy and testosterone fuelled. There is no room for sensitivity or thinking differently, and yet, that is exactly what you will find here.
Eli (the truly wonderful John C. Reilly) and Charlie (Joaquin Phoenix) Sisters are guns for hire with a difficult past that seems to haunt them both in different ways. Based on Patrick DeWitt's novel of the same name, the film is set in 1850s America and sees the titular characters pursue a prospector named Herman Kermit Warm (Riz Ahmed) thousands of miles from Oregon to San Francisco on behalf of the mysterious Commodore (Rutger Hauer).
From the outset, Benoit Debie's breathtaking cinematography, coupled with Alexandre Desplat's score, completely immerse you in the life in the old west. The more the film goes on, you can practically smell the sweat and gunpowder. It's a really beautiful piece of cinema to actually sit back and take in, particularly the panoramic shots of the mountains. Equally, when the camera is tight in on the dusty, sun-beaten faces of the lead four actors, you are absolutely drawn in to every flicker of the eyes and every suggestion behind their smiles.
There are some really beautiful moments that are rippling with tension. For instance, when Herman and John Morris (Jake Gyllenhaal) gaze at each other over a campfire, the sparks lighting up their eyes, I actually held my breath waiting to see what sequence of events was about to unfold. It's moments like this – in their utter stillness – that really make the film.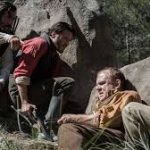 There are moments of light humour throughout the film – for instance, Eli getting to grips with this new fangled idea of a toothbrush – but it's not a laugh out loud kind of adventure. It's not even a black comedy. It's more about the complexities of a journey, both personal and literal, and, whilst there are gloriously choreographed shoot outs, they are few and far between. For that reason, I do believe that it won't be for everyone. It's an incredibly slow burn.
Joaquin Phoenix is, once again, brilliant as Charlie Sisters. He looks like he is having the best time, rolling up his cigarettes and swigging whisky. He gives an incredibly layered and nuanced performance so that we, very slowly, get to understand what it is that's fuelling his character. Equally on form is John C. Reilly, who's craggy face seems perfect for a cowboy. He delivers some physical comedy but, mostly, gives a performance that is thoughtful and well acted. It is his character who is more forward thinking; his character who has a desire for change.
Jake Gyllenhaal and Riz Ahmed provide excellent support – although, I didn't feel like we really got to learn too much about their characters. They are, however, more subtle and educated in comparison to the brash Sisters Brothers. There are also nice cameos from the likes of Rutger Hauer and Carol Kane.
The Sisters Brothers isn't going to be for everyone. If you're expecting lots of violence or silly, physical gags, this is not the film for you. Audiard has all but created a love letter to the genre, with some truly excellent performances at the core.
The Sisters Brothers is showing at the Glasgow Film Festival as part of the Cine Masters strand.
Latest posts by Mary Palmer (see all)