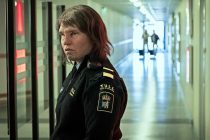 Films like Border do not come along very often, especially to UK cinemas. This, more than anything else, is a good argument for the benefits that come from the likes of The Glasgow Film festival. The film is so left field that it would struggle to any sort of mainstream distribution and would hopefully be discovered in the art house cinemas or the more discerning streaming services.
Tina is an outsider. With striking facial features she is unlike anyone else. She works as a customs officer at a busy ferry port. She is excellent at her job due to her ability to literally smell when something isn't right with me of the passengers coming through her checkpoint. She lives in isolation with a man she regards as company rather than an actual companion. On her job, she meets a man, Vore, who is more like her than anyone she has ever met. He immediately captures her attention as she feels some sort of connection. When they meet a second time it starts a series of events that make her question everything she knows about herself.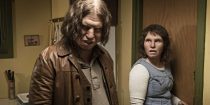 The central performance from Eva Melander Is a masterclass. With facial prosthetics and make up there is an immediate barrier to connecting with the audience. The character is brought to life in the way she interacts with everything around her. It's not just the human contacts that define her. It is also through the way she conducts herself in private. Aside from dogs, which always bark at her, she has a link with animals and nature. She is drawn to the forest and only seems to be relaxed when surrounded by the foliage or bathing in the lake. The reasons behind this are teased during the opening act and then subsequently fully explored.
The film is slow and meditative. There is no reason for it to be anything other than that. It creates an uneasy atmosphere at the start and uses this as a device to keep the audience wanting to know more about the character of Tina. She is a troubled individual who has little going for her. Her father is in a care home but still manages to have some sort of hold over her. Her living arrangements are a source of concern as she has no interest in an intimate relationship and admits her boyfriend is better than the alternative of no one being there.
There is a whole sub plot introduced about thirty minutes into the drama that doesn't quite sit with the rest of the film. Tina is asked by the police to help with a paedophile case that she found some evidence of at the customs checkpoint. There seems to be no point to the diversion but it is folded in a very clever way that makes the addition very worthwhile.One of the main themes tackles how outsiders are treated within societies. In this case, it is due to physical differences and the prejudices that arise. It could be considered as a comment on the immigrant experience for those coming to settle in Western Europe. The parallels are there and it feels like the film maker is using the premise for that very reason.
Latest posts by John McArthur (see all)