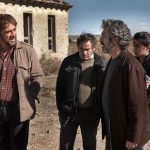 Like most Spanish properties, Laura's family home in a small village just outside Madrid has huge wooden doors that keep the dust and the noise of the square out. You can shut those heavy doors and no sunlight will touch the colourful floor tiles; no noise will hamper conversation. In essence, they keep everything tight and familial. Those deep, dark secrets; those furtive glances; those words unsaid. All kept in the family.
Laura (Penelope Cruz) is returning from Buenos Aires in order to attend her sister Ana's (Inma Cuesta) wedding. The reception is, as is tradition, being held in the courtyard of the family home. Once home, she is able to catch up with her ailing father and her former lover, Paco (Javier Bardem) before an unsettling turn of events unravels.
What is most thrilling about Asghar Farhadi's Cannes opener, is the wedding sequence itself. It's so vivacious and full of life. You are right in the middle of the family as they squeeze on to the tiles to flamenco dance. The laughter, the singing, the dancing all seems so natural and vibrant, as if you have stumbled upon footage of an actual wedding. It was a truly heart warming series of moments that I didn't want to end.
But it did. And how. Farhadi drains all of the colour of the wedding scenes in an instant and the sleepy Spanish village goes from effervescent to dusty and cool. Warm reds and twinkling lights are replaced by steely blues, parched beige and dark greys.  Struggling with a mix of jet lag and a few sly puffs of a cigarette, Laura's daughter Irene (Carla Campra) heads to bed. Just a few short moments later, she is gone and, in her place, are newspaper clippings of a recent abduction of another young girl.
The wedding, the joviality, the laughter all comes to a screeching halt as a series of text messages and familial secrets begin to emerge as Laura desperately searches for her daughter. Farhadi constantly weaves doubt into each conversation, each glance as Laura's whole world is turned upside down. Pouring over footage of the wedding for clues, it slowly dawns on everyone that the only people present were family …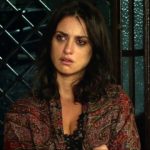 It's an interesting, if well-spun, concept: the idea that families are absolutely loaded with their own secrets and that it can take very little for normal domesticity to come tumbling down. Our secrets can be our downfall. And, what we think we have managed to keep to ourselves, as the film's title suggests, everybody (already) knows.
At the heart of it all, Penelope Cruz turns in an outstanding performance, full of raw emotion and sheer despair. Cruz, typically on form as a strong, formidable lioness, shows a more vulnerable side here and pulls it off perfectly. It would be hard to say too much about the rest of the cast without giving too much of the plot away. However, Javier Bardem does flex a nice range of emotions, from cheeky chappy to confused and desperate.
I would argue that, at two hours thirteen minutes, the run time is a little long. There were several scenes that covered old ground and didn't reveal any new information in order to move the plot along. It's also not too hard to piece things together, either, meaning that it isn't necessary to have additional scenes of people crying or exchanging mysterious glances.
That being said, on the whole, Everybody Knows is a decent thriller that delivers a fair amount of twists and turns. It's worth a watch for that glorious wedding sequences alone.
Everybody Knows is playing at the Glasgow Film Festival as part of the Cine Masters strand.
Editor at Moviescramble. European cinema, grisly thrillers and show stopping musicals are my bag. Classic Hollywood Cinema is comfort food. Spare time is heavily dependent on a lot of pizza and power ballads.
Latest posts by Mary Palmer (see all)