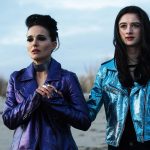 When I covered Agnieszka Smoczyńska's Fugue and discussed it's shocking and unsettling opening scenes, I thought that nothing would top that in terms of shock factor at this year's Glasgow Film Festival. That is merely because I had not yet seen Brady Corbet's Vox Lux. Following a glimpse at a few home videos, Willem Dafoe narrates a truly disturbing and violent sequence of events that will irrevocably change the lives of those who emerge from them.
Amongst all of this is Celeste (Raffey Cassidy), who suddenly finds that her experience of trauma has catapulted her into an international singing success. Clinging to her sister, Eleanor (Stacy Martin), she's a young woman who finds solace in prayer and homelife; she has no idea how to process her newfound stardom. She has swapped school band for glitter bodysuits and is enjoying her first taste of freedom, circa some unscrupulous nightclubs and men.
The film is divided into three acts, as it focuses on the various people who weave in and out of Celeste's life, and the impact they have on her. Jude Law is suitably sleazy and unfeeling as Celeste's manager, accompanied by his ridiculously coiffed publicist, Josie (Jennifer Ehle). Every personality type that Celeste encounters feels like a crude stereotype of the industry, and they are supposed to. Vox Lux amplifies everything, with great effect. It even plays with the cliche of history repeating itself, with Raffey Cassidy doubling as the young Celeste and – when Natalie Portman takes over the role with gusto – she plays her teenage daughter, Albertine.
The cast are absolutely outstanding. There is some really heavy subject matter here, and nothing is dealt with insensitively. Sure, there are moments of dark humour, but the overall tone is one of foreboding. Raffey Cassidy is incredible as the young Celeste. She is vulnerable; naive; excitable as she makes her first foray into the industry. Natalie Portman takes over the role and reveals how life in the music scene has left her cynical and jaded. Relying on pills and frequently throwing toddler tantrums, she reminded me of the last years of Judy Garland, right down to the way her hair was piled on her head.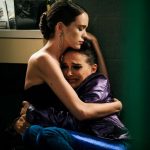 The film has drawn comparisons with Black Swan, but I think this is perhaps owing to the outlandish stage make up and choreography. For me, it was reminiscent of Nicolas Winding Refn's The Neon Demon or the 1997 anime, Perfect Blue. It is a criticism of a particular industry, but it's also an exploration of how unexpected life events can shape the person we become.
It's also, perhaps, a damning indictment of how certain atrocities have become normalised in the media, thanks to their regular occurrence. "Stop giving these people the coverage," Celeste shrieks, "Then maybe they'll go away. That's what they want – the attention."
For Celeste, the idea of that same attention is initially thrilling – a million miles away from her life on Staten Island. As she ages, it's her only escape. She can't go to a diner and eat a meal in peace; she can't host a press conference without past sins being cast up. She needs the stage and the idealised version of herself to hide behind.
With a soundtrack provided by Sia, Vox Lux truly is an incredibly aural and visual experience. But make no mistake, this is no electro-pop piece of fluff film. The events that unfold explode from the screen; flashes of light and beams of colour. The soundtrack pulsates and penetrates. It's an immersive cinematic experience, and is book-ended by two such incidences (albeit of a completely different nature). All credit to cinematographer Lol Crawley, for creating something so intense you can barely take your eyes off the screen.
Vox Lux is no fairytale story of a small-town girl realising her dreams to be an international pop star. It's a nightmarish – yet glamorous – indictment of the music industry, the media and the violence culture permeating American classrooms and holiday destinations.
Vox Lux is screening at the Glasgow Film Festival as part of the Sound & Vision festival strand.
Latest posts by Mary Palmer (see all)