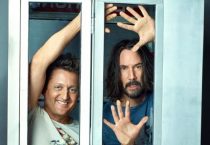 After decades of rumours, broken promises and blind hope, Bill & Ted 3 is officially a go. The long awaited third instalment in the series has languished so long in development hell that even the most die-hard of fans had all but given up on it. Even last year's news that original stars Alex Winters (Bill S. Preston, Esq) and Keanu Reeves (Ted "Theodore" Logan) had appeared to get the band back together, audiences were still understandably sceptical about its chances. Altough pre-production was reportedly under way, it was a story we've all heard before only for the project to disappear.
With filming now all but confirmed for this summer, the Wyld Stallyns are dusting off their air guitars once again to bring rock and roll to you.

Is this an excellent idea or a most bogus prospect?
Check out the video below for the official announcement of Bill & Ted 3: Face The Music and let us know your thoughts.
Latest posts by Thomas Simpson
(see all)