Odd Thomas can see dead people. But, by God, he does something about it. Dean Koontz's supernatural sleuth is brought to life in Stephen Sommers' 2013 fantasy / thriller about a fry cook in a small town who is determined to help the unsettled phantoms he sees make a peaceful passing in to the afterlife.
Odd – who should have been called Todd, but there was a mix up on his birth certificate – uses his clairvoyant powers for good in the sleepy Pico Mundo where he lives. He helps catch murderers who thought they had got away with their misdeeds and he tries to prevent wrongdoing wherever he can. He is also plagued by the presence of "bodachs" – shimmering, metallic demons who act as a sort of signifier of imminent doom.
And it's this foreshadowing – largely made up of faceless corpses in bowling alley shirts – that makes up the central plot of the film. Just what tragic event is Odd supposed to stop? Will he be able to put the pieces of the puzzle together on time to thwart several untimely deaths in Pico Mundo?
Anton Yelchin stars as the titular character in this sweet, B-movie-esque film. It's short, sharp and full of plot points that – if it weren't for the obviously hammed up performances – would seem corny. It feels like Scooby Doo without the acid trip. Although largely derided by critics upon its release, I found it charming and good fun. Film can just be fun, ya know, they don't all need to be hammering home life-changing morality lessons.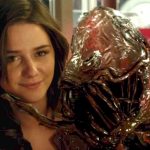 Yelchin is great as the lead. He's earnest, thoughtful and deeply committed to keeping the good folks of Pico Mundo safe. His relationship with police chief, Wyatt Porter (Willem Dafoe) is like one of a father and son, and their scenes together are really enjoyable to watch. The love of his life, Stormy Llewellyn (Addison Timlin) works in the local mall and pitches in with his investigations where she can. There is a really neat chemistry between Timlin and Yelchin; their relationship has an old-fashioned innocence about it.
This is a town where everyone knows everyone; marries their childhood sweethearts; and goes for wholesome family trips to the ice cream parlour. There are clear cut good guys and bad guys, and you almost expect the latter to be twirling a moustache and giving a knowing wink to camera – but this is not to the detriment of the entertainment value. In fact, it's almost like a pastiche.
At times, Sommers does seem to rush through the plot, and this does lead to some rather two-dimensional characters and some very obvious foreshadowing but, in a way, it kind of adds to the charm of the piece. Even some of the poorer special effects have something whimsical about them.
Whilst it won't be to everyone's taste, Odd Thomas is very much an 'all in jest' type of piece that more than plays up to the tropes of the genre. It might not be super stylish or slick, but it is entertaining and endearing.
Odd Thomas is currently streaming on Amazon Prime.
Latest posts by Mary Palmer
(see all)