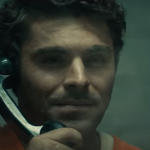 "I get really scared but he's also kinda dreamy."
A teenage girl, fascinated by the first televised trial in American judicial history, sums up the dichotomy of Ted Bundy in one neat sentence. Besides the brutality of his crimes, what really shocked America is how this handsome, well-dressed, intelligent, loquacious young man could possibly be a serial killer. His image just didn't fit the idea of the sordid old man in a basement.
Tonally, this second teaser for Extremely Wicked, Shockingly Evil and Vile is markedly different from the first, which felt pop-y, pulsating and upbeat. Instead, it's dark and disjointed, punctuated by Bundy's breathing down the prison phone. You also get to see a bit more of Lily Collins' character, Liz, and how she comes to terms with the life she thought she had with Bundy and the reality of his actions.
Efron – as Bundy – is truly demonstrating his chameleon like abilities; the way he smiles or the way he looks up from under his floppy fringe is a carbon copy of the notorious killer. From the outset, I maintained that his matinee idol good looks made him the ideal actor for the role.
The trailer also reveals that director Joe Berlinger – who is also responsible for the Bundy documentary that recently aired on Netflix – takes the title of the film from the presiding judge, played here by John Malkovich.
Although it does demonstrate more of Bundy's manipulative side, it doesn't give much more away than the initial teaser. Certainly, it whets the appetite for more.
Extremely Wicked, Shockingly Evil and Vile is set to drop on Netflix on May 3 – so kiss your Bank Holiday weekend goodbye.
Latest posts by Mary Palmer
(see all)