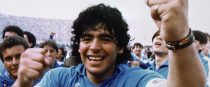 Sheffield Doc/Fest has just announced the Opening Night Film for the 26th edition is the UK premiere of the much anticipated Diego Maradona, from the Academy Award and BAFTA-winning team behind Amy and Senna, created from over 500 hours of footage from Maradona's personal archive. The screening plus Q&A with director Asif Kapadia will take place on Thursday 6 June at Sheffield's City Hall. Asif Kapadia was last at Doc/Fest in 2011 with Senna.
Diego Maradona is a wild and irreverent look at one of the world's most iconic sportsmen, both on and off the pitch, during his infamous time in Naples. Having never won a major tournament, SSC Napoli had always underachieved. But when Diego Maradona arrived in 1984, all hell broke loose. Maradona was blessed on the field but cursed off it, by performing miracles on the pitch he could do as he pleased but when the magic faded, he became a prisoner of the criminal city of Naples. In a city where the devil would have needed bodyguards, Maradona became bigger than God himself. This is the unforgettable story of a natural-born talent, glory, despair and betrayal, of corruption and ultimately redemption.
Luke W Moody, Director of Film Programming, Sheffield Doc/Fest says, "Asif's aptitude for finding the personal face behind troubled brilliance shines through in immersive, never-seen-before archive footage. We're proud to present the UK premiere of Diego Maradona as our opening of the 2019 festival. "
Asif Kapadia says, "I'm incredibly proud and honoured that Diego Maradona will have its UK premiere as the opening film at Sheffield Doc/Fest. After three long, hard years making the film, my producers, crew and I are really excited to finally present the film to the UK audience. Those with long (football related) memories will recall that Diego almost signed for Sheffield United in the late 70's, the deal fell through, (over money), so on the 6th June 2019, Diego Maradona will finally make his long awaited debut in Sheffield! Game on!"
Hamish Moseley, Head of Distribution, Altitude Films says, "Once again Asif has crafted a powerful, surprising and gripping story about an icon who we, and the rest of the world, already thought we knew everything about.Altitude is very excited to bring Diego Maradona to cinemas this summer and are delighted to be premiering the film at Sheffield Doc/Fest. We can't wait."
Editor-in-Chief at Moviescramble. A Fan of all things cinematic with a love of Film Noir, Sci-Fi and Julia Roberts in Notting Hill. He hopes to grow up some day.
Latest posts by John McArthur (see all)