WARNING – Review may contain spoilers for those unfamiliar with the Ted Bundy case. You have been warned.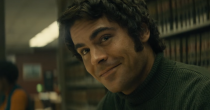 Something wicked this way comes in Joe Berlinger's serial killer thriller. Starring Zac Efron as Ted Bundy, Extremely Wicked, Shockingly Evil and Vile tells the story of the notorious murderer and rapist through the prism of one of his victims, Elizabeth 'Liz' Kloepfer (Lily Collins). Kloepfer is a unique casualty of Bundy's evil in that she didn't meet the same fate that befell the poor women that lost their lives. No, Kloepfer was Bundy's longtime girlfriend.
When we first meet Bundy, he's already suspected of terrible crimes. Chillingly, he quickly appears to settle down with Liz playing the part of the perfect gentleman. Having earned her trust, he also becomes a father figure to her young daughter and they appear to be a happy family. It doesn't take long for the police to start pointing fingers at Bundy which leads to his arrest. As Liz starts to doubt his innocence, Bundy makes it clear he has no intention of letting his grip on her go, even from behind bars.

The title comes from Judge Edward Cowart (John Malkovich) who used the words to describe Bundy's crimes at the trial. Despite this damning indictment, it would appear that Cowart was enamoured by Bundy's charisma. This ability to draw people in also led at least thirty young women and girls to their deaths. The original casting of Efron raised eyebrows however he silences his critics in a commanding role that channels the hypnotic appeal that Bundy utilised as a devious tool. This is a performance within a performance. Here, Efron plays both the character of Ted Bundy and the real persona, a man who liked to put on a show for the press as well as his victims. His malice lay beneath the handsome smile with Efron keeping the darkness bubbling underneath, his portrayal both remarkably stoic as well as exaggerated. Efron portrays a manipulative charm and faux nativity only to replace his expression with a sinister glare that betrays the monster lurking underneath. There's a brilliant subtlety Efron brings to the role that could easily go unnoticed. Collins is brilliant, that she doesn't know about her boyfriend's actions makes for an unnerving chemistry with her co-star. As the truth begins to claw at her, we witness a woman whose soul is slowly chipped away.  She struggles to escape the hold that Bundy has over her as she watches his life unravel from afar it's a battle to keep her own on the rails. Her fragile performance is underlined by her immense strength as she struggles to come to terms with her own conscience and break the links that bind her to this psychopath.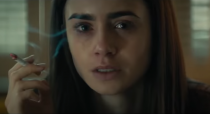 Berlinger doesn't focus on the killings themselves, this spares us the gratuity of the gruesome acts which are told to us rather than shown. It does relegate the victims to accessories for Bundy which, in a frightening way, they were to him in real life. There is little violence in the movie, the focus instead on the man who women trusted and felt safe with. This doesn't glorify Bundy or his crimes, instead it paints a stark warning that maniacs are amongst us, blending in with society. They lurk in the shadows by fitting in.
Extremely Wicked, Shockingly Evil and Vile is a fine movie with brilliant performances. Berlinger's knowledge of his subject is evident and it should be, considering he recently directed the documentary series Conversations with a Killer: The Ted Bundy Tapes for Netflix. This is a dark tale that doesn't have to present itself with doom in order to convey its horrors. Like Bundy himself, it's a film that at times presents a false face while hiding its true one beneath an alluring veil. If the film's charm makes you uncomfortable, it should.
Latest posts by Thomas Simpson
(see all)