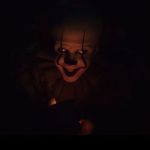 It's incredibly rare for a trailer to instil such an overwhelming sense of unease and fear. Usually, you're in the cinema, hiding behind your popcorn, waiting for the jump scare but, in the case of It Chapter Two, you're barely thirty seconds into the trailer.
As anticipated, The Losers Club are back together – this time as adults – in order to rid the town of Derry from the threat of the shape-shifting Pennywise.
Andy Muschietti is back in the director's chair and Bill Skarsgard is still making his eyes face opposite directions as the ultimate creepy clown. The (excellent) child actors from the first film now find their characters being played by the likes of Jessica Chastain, James McAvoy and Bill Hader.
The trailer – which has freaked me out so badly I doubt I'll even see the film – focuses largely on Chastain as the adult Beverley, revisiting her old family home, which is now occupied by an elderly woman … Or is it? The Hermann-esque strings and the scuttling going on in the background is enough to convince me that this is one to watch from behind my hands.
We catch a small glimpse of Skarsgard and his toothy smile and, of course, the ubiquitous red balloons, but not too much more than that. No doubt, in the build up to the release date, we'll see yet another effective marketing campaign designed to thrill horror lovers and terrify scaredy cats like me.
Watch the teaser below … And you'll float too.
It Chapter Two is out in UK cinemas on September 6.
Latest posts by Mary Palmer
(see all)