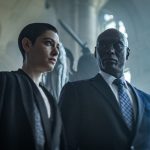 Keanu Reeves is 55 years old this year. Just let that sink in as the opening moments of John Wick Chapter 3: Parabellum unfolds. The third instalment in the franchise barely allows you to catch your breath as scene after scene erupts into perfectly choreographed action.
The film picks up where Chapter Two ended, with the placing of a $14 million bounty on Wick's head. He has one hour, wherein he will find himself "ex-communicado" from the High Table – meaning he is a lucrative target for the swarths of shadowy assassins lurking in every car, hotel and alleyway in New York city. He has no access to the services that The Continental Hotel once had to offer; he is truly on his own when it comes to facing down his many enemies.
Ian McShane, Laurence Fishburne and Lance Reddick also return to the cast, alongside the likes of Billions' Asia Kate Dillon, Halle Berry and Jerome Flynn. It's a film that keeps a subtle rhythm throughout; a quick-quick-slow of action sequences followed by just enough scene-setting dialogue to allow you to come up for air.
There is a lot of duality throughout the film – Halle Berry's Sofia has two identical dogs; Mark Dacascos's Zero claims he and John are one in the same; Wick is often set upon by teams of two; Winston is still playing one side off the other. And that's before we even get to analogies of coins and the literal action in amongst glass and mirrors.
One of the things that stands out about the John Wick films is the lack of soundtrack, meaning you get to hear every slash of a knife and every lung filled with blood. Dan Laustsen's cinematography reminded me of Deakin's work on Blade Runner 2049; from the lurid neon of night-time New York to the smoky burnt orange of the desert. The camera work during the action sequences – I particularly enjoyed seeing bullets fired underwater – is absolutely flawless.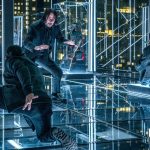 The violence in Chad Stahelski's film is supercharged. It's gratuitous without making you look away from the screen. Some of the set pieces are every bit as beautiful and stylised as The Director's (Anjelica Huston) Russian ballet dancers. Sure, someone is taking an axe to the head or a book through their jaw, but they do it so magnificently. It's films like this that merit an inclusion of a stunt / fight work category at the Oscars, so detailed and thrilling they are.
In a way, the films oddly remind me of Alfred Hitchcock's North by Northwest. Although there is no case of mistaken identity here, Wick is a man on the run from a team of skilled assassins and – like Cary Grant – he manages to keep is suit on and in perfect nick, no matter what the circumstances. The suit is intrinsically tied to the character.
With a TV series allegedly in the works and a relatively open ending to Chapter 3, there is a clear appetite to see more of John Wick. Reeves is, once again, excellent in the central role. Although largely taciturn, it is clear that he is anti-hero, still haunted by loss. His fight work is truly exceptional – he really could give cinema's resident action man, Tom Cruise, a run for his money in this film. He's riding through the city on a horse; he's fending off motorcycle gangs wielding swords; he's shooting his way through a Moroccan bazaar. It's kind of no surprise that he's managed to knock Avengers: Endgame off the top of the box office charts.
This is a film that weaves seamlessly from high-octane, bright lights sequences to whispers in the shadows. It's definitely an improvement on Wick's last outing and absolutely ups the ante in terms of fight work and big-budget set pieces.
John Wick Chapter 3: Parabellum is a masterclass in the opulence of violence.
Latest posts by Mary Palmer
(see all)