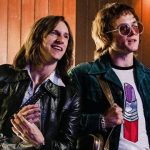 Biopics tend to fall in to one of three categories: genuinely insightful (Trumbo), neatly sanitised (Bohemian Rhapsody) or wildly inaccurate (Braveheart). So, you never really know what you're in for – even if you are a big fan of the subject. Elton Hercules John is a conflicting icon for many, myself include. I'm a huge fan of his virtuoso piano playing and ability to knock out a hit song, but reports of his tantrums and bully-like behaviour taint the talent behind it all. And Dexter Fletcher's Rocketman doesn't shy away from either.
The film isn't a straightforward biopic, using lots of fantasy song-and-dance sequences and innovative ways of working in the music to tell the story of Reg Dwight, the Pinner boy made good. It starts off with John sitting in rehab – dressed like a glittering devil – confessing his sins to a group of strangers. He wasn't loved as a child; he has substance abuse issues; he has an eating disorder; and he worries that he'll never experience real love. It's a fairly frank admission and an incongruous thought to the Elton you usually see on stage. He seems small, weak and vulnerable and – despite his typically over the top costume – there's nothing of the showman about him.
And that is where Rocketman really excels. It's not simply a like-for-like copy of Elton John's greatest hits, complete with stage garb and CGI crowds. There are really beautiful orchestral arrangements of Goodbye, Yellow Brick Road and the title track throughout and a few of the songs are sung in different arrangements to the originals.
The film goes right back to the beginning – from the first time he plucked out a few notes on the piano – right up until the 1983 release of I'm Still Standing. Matthew Illesley and Kit Connor are excellent as the pre-school and pre-teen Reggie Dwight, respectively. The boys belt out songs such as The Bitch Is Back and I Want Love whilst conveying the hardship of being brought up in a house where there is no love between the parents and no love for their child. It's a clear foreshadowing of Elton's struggles later in life.
There is good chemistry between Taron Egerton's Elton John and Jamie Bell's Bernie Taupin, even if the latter's accent is a little all over the place at times. Egerton is excellent – nailing the way John wiggles his bushy eyebrows when he sings or smiles in that tight-lipped, bright-eyed way. There are many mannerisms that you can tell he has worked hard to capture. His singing voice is excellent, too. He hasn't tried too hard to sound exactly like Elton, which breathes a bit of new life into the classic soundtrack.
Whilst the film doesn't shy away from Elton's issues – the terrible temper and the accompanying strops, the wild sex life, the penchant for vodka for breakfast and cocaine for dinner – it does create something of a sympathetic figure of the man. Was all of this crazy behaviour a result of a neglectful upbringing and a desire to be loved?
For me, Richard Madden's turn as the snarling, greedy John Reid was a little two dimensional. I'm not sure if it was the actor or the character, but there was an awful lot of standing in doorways trying to look menacing. Whilst it's clear his behaviour was more than unsavoury towards the closeted young star, it all felt a little pantomime villain to me. Bryce Dallas Howard – as Sheila, Elton's mum – does a good job of portraying a woman who was unhappy with her lot in life – even when her son was top of the charts and treating her to the best restaurants in LA. Of course, who is to say that this particular version of events is anything but Elton's, but it makes for interesting viewing.
The song and dance sequences are great. From full-on, West End-style numbers (Saturday Night's Alright for Fighting) to the fantastical experience of performing (Crocodile Rock), Rocketman certainly delivers on the entertainment value. Whilst nobody was quite up dancing in the aisles, that didn't take away from the experience of hearing these classics rendered in new ways.
Rocketman won't be for everyone – in the same way that Elton and his music isn't – but it's certainly an interesting new style of biopic. One that almost encourages you to take everything with a pinch of salt, owing to the many fantasy style sequences.
You'll certainly leave the cinema with a strong desire to belt out one of the bigger numbers, and maybe even purchase something sparkly.
Latest posts by Mary Palmer
(see all)