The X-Men series has been a massive hit for Fox with overall quality backing up its box office success. The franchise had something of a mini-reboot with Days of Future Past which merged the First Class with the old school. Resetting the timeline allowed writers to explore alternative stories without worrying about affecting the continuity of previous films. Apocalypse was a massive disappointment but it did introduce new faces to old characters including Sophie Turner as Jean Grey, Tye Sheridan as Cyclops and Alexandra Shipp as Storm. While audiences expected this cast to kick-start another chapter in the series, Disney's acquisition of Fox put that in jeopardy. As exciting as the X-Men being added to the MCU promises, it's time to end this current story which, has spanned 19 years, with X-Men: Dark Phoenix.
Almost a decade has passed since the events of Apocalypse. The X-Men are revered as heroes as mankind appears to have accepted mutants as equals. When the Endeavour space shuttle experiences catastrophic difficulties, Professor Charles Xavier (James McAvoy) sends his X-Men on a rescue mission. Although successful in saving the crew, Jean Grey is almost killed when she absorbs the full force of a solar flare. Back on earth, Jean starts to portray a darker side to her personality. Her powers also enhanced, she becomes a threat to the X-Men, and humanity, as all the pain and rage buried deep within her is ready to be unleashed.  
This isn't the first time The Dark Phoenix Saga has been adapted for the big screen. It's also the second time that director Simon Kinberg himself has penned the script having previously written 2006's The Last Stand. Promising he'd be more faithful to the source material this time, there are similarities with set pieces however Dark Phoenix is a massive improvement on both The Last Stand and Apocalypse. With the spotlight on Jean Grey, it gives Turner the opportunity to showcase how talented she is. Up against some acting heavyweights in Michael Fassbender and James McAvoy, Turner more than holds her own adding so much depth and intensity to Grey that it's a crime we won't see her reprise the role. The same can be said for Shipp who is utterly commanding as Storm. Fans of the comics know how important the mutant is to the series with Shipp underlining her performance with powerful strength. The surface of the new cast are skirted but unfortunately Kinberg doesn't dig deep. Kodi Smit-McPhee showed potential as Nightcrawler while we never see Sheridan's Cyclops evolve in the leader he will become.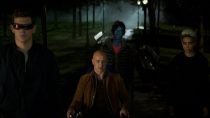 With so many endings to wrap up in one film, new characters fail to make much impact. Magneto's  Brotherhood are never really explored while the D'Bari serve as a convenient plot device. Jessica Chastain does what she can with the time allotted to her as Vuk, the shapeshifting alien out to manipulate Grey and her new power. She's cold and methodical and should have proved a more formidable foe had the runtime allowed it.
It's always great to see McAvoy and Fassbender in these roles. They're both so good they make you believe they actually could be younger versions of Patrick Stewart and Ian McKellen. Their chemistry is irresistible as they trade words more effective than a spectacular CGI fight. Not that Dark Phoenix doesn't have his action, the set pieces are exciting especially in the third act as the D'Bari make their move and it's up to our friendly neighbourhood mutants to save the world again.
The film's climax does feel rushed as Kinberg tries to tie up as many loose ends as possible while putting a full stop on 19 years of films. Despite many characters getting their ending, it's hard not to feel deflated as the finale is born more from necessity rather than a narrative arc. A satisfying if underwhelming conclusion, Dark Phoenix is still an enjoyable film in its own right with its faults masked by a stellar cast. All eyes will now be on Marvel to see what rises from the ashes.  
Latest posts by
Thomas Simpson
(see all)