Peter Parker doesn't want to be an Avenger. He wants to be a 16-year-old schoolboy from Queens, travelling through Europe for the summer. He wants his first girlfriend. And he wants to get over the loss of his mentor, Tony Stark.
So, when Jon Watts' addition to the Marvel canon opens, he is planning exactly that. He doesn't feel worthy of the Spidey suit anymore and has no desire to take on the burden of worldwide security and threat prevention. He's not Thor or Cap, as he points out, and he has no desire to step into Iron Man's shoes.
Tom Holland reprises his role as your local friendly neighbourhood superhero and is every bit as socially awkward, energetic, funny and endearing as he was in his first outing. Holland, for me, really is the perfect rendering of Peter Parker, playing the role with every ounce of dork within him.
A school TV tribute – accompanied by Whitney Houston's I Will Always Love You – acknowledges what happened at the end of Infinity War and ponders the question of international safety in the wake of several losses. But all Peter wants to think about is telling MJ (Zendaya; quirky as ever) that he loves her and planning a jaunt through Europe with Ned (Jacob Batalon).
But, like all good superhero movies, things don't quite go to plan. Nick Fury (Samuel L. Jackson) and Quentin Beck a.k.a. Mysterio (Jake Gyllenhaal) need Peter to don the Spidey suit once more to defeat the Elementals – monsters made of earth, wind, water and fire – as they terrorise Europe and South America.
From there, a topsy turvy wild ride of illusion versus reality follows. Far From Home takes Spider-Man from Venice to Prague; the Netherlands to London. There's a lot of huge CGI set pieces as various battle sequences take place. But these weren't my favourite thing about the film. What was impressive was the choreography and fight sequences inside the "Illusion Tech". It felt like a rollercoaster ride at Universal. It was wild and unpredictable and thoroughly enjoyable.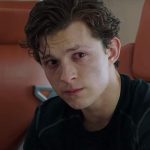 Jake Gyllenhaal, for me, was the stand out. Whilst he is, undoubtedly, one of the greatest actors working in Hollywood, it was great to see him let loose and camp it up a little. We're so used to seeing him pull out one hard-hitting performance after another that it was utterly refreshing to see him lording it up with hammy looks to the camera and swishing his cape.
The increased presence of Happy (Jon Favreau) ensures that the Stark Industries legacy lives on – at least, in technology form. The introduction of EDITH – that's Even Dead I'm Still The Hero – ensures that Spidey has access to some of the tricks and tech that his former mentor had at his disposal.
This recent incarnation of the Spider-Man franchise works because Peter Parker acts and talks exactly like the teenager he is supposed to be. He doesn't give long speeches about courage; he is vulnerable and emotional. He is genuinely torn between the normal life he craves and the power to do good he possesses.
The first post-credits scene did take me aback a little. Until this point – whilst I had really enjoyed the fun of the film – I wasn't sure where it was driving the MCU narrative. However, the scene hinted at what might lie in store. It definitely ended things on a bit of a darker note, more akin to the Avengers series.
Whilst not quite as fun as Homecoming, excellent central performances from Tom Holland and Jake Gyllenhaal ensure that Spider-Man: Far From Home is an action-packed, good fun addition to the MCU.
All that was missing was the cameo from Stan.
Latest posts by Mary Palmer (see all)