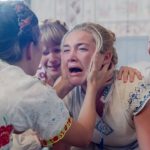 It's going to be hard to discuss Ari Aster's Midsommar without getting into spoiler-y level detail. It's a film that, even if you aren't dealing with emotional trauma or mental health issues, is probably going to trigger something in you. It's such a slow burn – such an insidious creeping under your skin – that it feels like you're leaving the cinema in as much of a trance as the people of Halsingland.
The thing about Midsommar is, far from being grounded in the "safe" realms of fantastical fiction, everything about it feels very much real. We open with Dani (the outstanding Florence Pugh) essentially being gaslighted by her emotionally unsupportive boyfriend, Christian (Jack Reynor). A hugely shocking family trauma forces Christian to abandon his plans to break up with Dani and invite her on a would-be boys trip to Europe instead. He has a flatmate, Pelle (Vilhelm Blomgren), who wants them all to check out the quaint commune he grew up in and join in with the theatre of their midsommar festival.
The film really does toy with your emotions from the offset. Whilst Dani struggles to work through her trauma, clinging on to whatever is left of her relationship with Christian, as viewers we are immediately pulled in to an emotionally fraught situation. There is no sense of equilibrium – not ever. At the heart of it all is a truly mesmerising central performance from Florence Pugh, who is unafraid to allow emotion to completely overcome her. Her facial expressions and the way she carries herself are utterly brilliant throughout.
Watching Midsommar – which is not a remake of, nor any relation to the 2003 Danish horror of the same name – recalled lots of other cinematic experiences. Even the upside down tracking shot of the drive into the village was similar to another A24 release, The Hole in the Ground. There is, of course, notable comparisons with The Wicker Man whilst Aster acknowledges the influence of two Roman Polanski films – Macbeth and Tess – on his visuals. There is also more than a hint of Shirley Jackson's short story, The Lottery.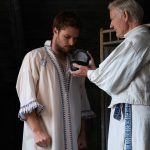 Aster's visual flair was clear in his debut, Hereditary, but this takes it one step further. Midsommar is an immersive visual experience. The bright white of the villagers' clothing, the seemingly unending Scandic sun, the alacrity of the villagers all moving and working in unison. The overhead shots of the banquet tables and the beautifully disorientating camera work within the May Queen dance sequence are truly some of the most exciting cinematography I've seen in a horror film.
Everything that should be intimate or personal becomes a shared experience – whether that be emotional or physical, as both Dani and Christian will encounter. Despite the cheerful faces on the villagers as they bake, sew and garden, something about the heightened exposure underlines this creeping sense of unease that permeates the film. Aster is inviting you to look and admire, the way you would with a beautiful rose, whilst being wary of the thorns lurking underneath. This isn't all pretty scenery and floral tributes – there is a lot of gruesome violence throughout.
The digetic sound is also of pivotal importance in creating the overall sense of foreboding, right down the clattering of cutlery and the swaying of the leaves in the trees. There are virtually no footsteps heard in the film – with many of the Harga choosing to walk barefoot amongst the grass – which is a sound that is notable for its absence and powerful in its use.
Emotion is something that is at the crux of this odd cult; how we feel, how we see, how we belong. The Harga portray their community as everyone having a purpose and sense of fulfillment; a natural order of seasons and cycles. They engage in what can only be described as a bastardised form of group therapy, where emotions are expressed in a shared manner. But the most striking example of this is the scene in which Dani and the other May maidens end up on their hands and knees, crying together. It's a bestial wailing; a primal expression of fear, loss and grief. And it's absolutely wonderful to watch, in a bizarrely satisfying way.
Midsommar far surpasses Ari Aster's directorial debut and is one of the most exciting films to hit cinemas this year. It's challenging and different – not packed full of conventional horror tropes – and will really leave you feeling deeply unsettled and rather emotional.
Latest posts by Mary Palmer
(see all)