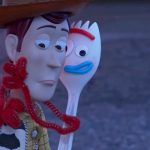 The incinerator scene in 2010's Toy Story 3 left so many moviegoers in floods of tears in a way that no film about childhood toys ever should. It was so emotional and poignant – a real lesson in friendship and self-sacrifice. So, when Woody, Buzz and the rest of the gang not only survived said encounter but had found a new life with pre-schooler, Bonnie, I was quite happy to say my goodbyes to what had been one of the most spectacular movie trilogies I had ever seen.
The original Toy Story, itself, was a game changer, and a huge part of many childhoods. So, whilst I did question whether or not we necessarily needed a fourth instalment of the franchise, I was eager to know that my "old friends" had settled in well at their new abode.
Randy Newman's score tinkles throughout, taking you straight back to that sky blue wallpaper with cotton candy clouds. Like all of Pixar's films, there is something for the adults in Toy Story 4. Whilst the kids can get caught up in slapstick antics and the introduction of new toys, the adults can focus on the main of theme of the film, which is very much about what it means to be "alive" and what it means to be lonely. Pretty hard hitting stuff from the cowboy and the space ranger.
Woody and Buzz are, as ever, beautifully voiced by Tom Hanks and Tim Allen. These characters never talk down to their audience and, somehow, are able to appeal to all ages watching. This particular adventure does focus more on Woody, rendering Buzz an almost secondary character, as Bonnie consistently leaves him behind at playtime. Woody has to choose between his unswerving loyalty to "his kid" and the realities of having outlived his purpose.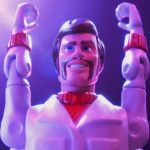 Joining the gang on an RV road trip to a slightly sinister out-of-town carnival are the likes of Rex, Slinky and the Potato Heads. They face serious competition from Forky (voiced by Tony Hale) who is, quite literally, a fork with some googly eyes and pipe cleaner hands. He doesn't want to be part of Bonnie's playroom – he'd rather be back, swimming around in the garbage – so it's up to Woody to teach him about belonging.
The animation is as lively as ever, with a whole bunch of Easter eggs that no doubt require second and third viewings to catch them all. In particular, the scenes in the Second Chance Antiques store were thrilling. The terrifying, rapid blinking Gabby Gabby and her broken voice box (Christina Hendricks) lords over domain with a troupe of ventriloquist "heavies" who wouldn't look out of place in a James Cagney flick. It is these scenes that prove there is still life in the Toy Story franchise.
Whilst I didn't feel like we got the banter between Buzz and Woody that the previous three films produced – and certainly, some of the bigger characters such as Jessie were relegated to really small roles – there was still plenty to keep you chuckling away. The introduction of fairground prizes, Ducky (Keegan-Michael Key) and Bunny (Jordan Peele), provided plenty of laughs at their violent imaginings. The nicest guy in showbiz, Keanu Reeves, also lends his voice to failed stuntman, Duke Caboom. He'll have you shouting "Yes, we Canada!" in no time.
Equally, there are plenty of emotional moments – although, none quite as hard hitting as that damn incinerator. There is a real sense of finality around this film and that's okay. Extending this franchise beyond the current four films probably seems tempting to some studio execs, but doesn't feel right. The film's ending makes things pretty clear as to what lies ahead for Andy's former toys.
Toy Story 4 is – thankfully – a really warm and genuine addition to the franchise. Plenty of fun and excitement for the kids, and plenty to think about for the accompanying adults.
Latest posts by Mary Palmer
(see all)