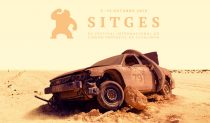 With less than three months until the start of the 52nd edition of the Sitges Fantastic Film Festival, the first forty films of the ten day extravaganza have been announced. The line up is the usual heady mix of brand new cinema from Catalonia, Spain and just about everywhere else that produces quality fantastic films. This year the festival celebrates the post apocalyptic landscape of George Miller's Mad Max which celebrates it's fortieth anniversary this year.
Sam Neil has been announced as attending and will receive the Grand Honorary award for his achievements in film and television that started in 1977 with Sleeping Dogs and has since taken in more than 75 movie roles and 45 television appearances. A selection of his films will screen as part of the festival programme.
The first series of film titles announced by the Festival illustrates that fantastic genre is becoming more and more heterodox, moving not only down the paths of horror, fantasy or science fiction – already confirmed – but opening up to more wide-ranging themes, concepts and reflections that interest increasingly more mainstream audiences. Likewise, fantastic genre films are proving to be the most transgressive in conceptual and formal terms, creating decisive trends not only in genre but also in contemporary audiovisual.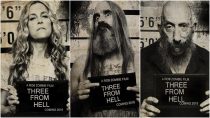 Among the most eagerly-awaited films is Rob Zombie's 3 From Hell, the return of the Firefly family from The Devil's Rejects, which promises to be one of the Festival's most exciting screenings. The supernatural thriller Daniel Isn't Real is the new endeavor by Adam Egypt Mortimer, who presented Some Kind of Hate at Sitges 2015. The directorial debut of Ant Timpson – the Kiwi producer of The ABCs of Death, Turbo Kid or The Greasy Strangler – is Come to Daddy, a black comedy starring Elijah Wood that will surprise the film competition's audiences. Henry Jacobson also debuts with Bloodline, bloody family horror with Brian De Palma influences. Severin Fiala and Veronika Franz, the Austrian directors of the terrifying Goodnight Mommy (Sitges 2014) are back with The Lodge, a new foray into the very darkest human psychology. Lorcan Finnegan's Vivarium was presented in Cannes and will be landing in Sitges with its bold mise-en-scene and a cast headed by Imogen Poots and Jesse Eisenberg.
Zombies won't be missing the party with the Australian comedy Little Monsters, directed by Abe Forsythe and starring a Lupita Nyong'o in a state of grace. Larry Fessenden's Depraved offers a new interpretation of the Frankenstein myth with its artisanal, experimental horror. The universe of Hideo Nakata's The Ring is hot news again in 2019 with Sadako, a new chapter that will reveal the origins of the popular Japanese franchise. From France, The Room, an original and brilliant combination of horror and science fiction, directed by Frenchman Christian Volckman and starring Olga Kurylenko, and Quentin Dupieux's latest production, Le daim, one of the big hits at the Cannes Directors' Fortnight and one of the French films with the best reviews of the year, which confirms the director's loyalty to Sitges.
Genre films directed by women will occupy a predominant space at Sitges 2019, as it has in recent years, with a large number of titles. From Australia arrives Mirrah Foulkes' Judy and Punch, a story of revenge with Mia Wasikowska at the helm. The duo of American directors and actresses Jocelyn DeBoer and Dawn Luebbe will present the comedy Greener Grass, which takes place in a world where everyone wears braces. Braid will also be screened, an addictive and troubling thriller directed by Mitzi Peirone. The Woman shook up Sitges 2011 and its leading lady, Pollyanna McIntosh, now directs Darlin', resuming the story through the daughter of that well-remembered wild woman. Roxanne Benjamin is posited as one of the most interesting new voices in genre with Body at Brighton Rock, a psychological thriller with touches of survival movie. In addition, Canadian Jovanka Vuckovic will be presenting the post-apocalyptic Riot Girls, which combines action, violence and queer romance.
Once again this year, Sitges 2019 will be the showcase for the most contemporary animated cinema. Japanese director Keiichi Hara (Miss Hokusai) will be bringing The Wonderland, which will be shown at the special screening for students from Sitges' schools. Also from Japan are Ayumu Watanabe's Children of the Sea, considered one of the best examples of anime this year at the Annecy Festival, and One Piece Stampede, based on Eiichiro Oda's immense work, the most famous and influential manga in recent decades. From France, Les hirondelles de Kaboul, directed by Zabou Breitman and Eléa Gobbé-Mévellec, transports us to the summer of 1998, to a city of Kabul occupied by the Taliban. The Chinese White Snake completes this first preview as regards animation. Directed by Amp Wong and Zhao Ji, it presents an irresistible combination of fantastic adventures and love story.
The latest Spanish genre productions will be shown at Sitges 2019, which offers a preview of four promising debuts from the Basque Country and Catalonia. Cuerdas, from Tarragona-born José Luis Montesinos – winner of the Goya Award for the short film El Corredor – is a survival thriller starring a young tetraplegic interpreted by Paula del Río, who is trapped with the only company of her sick dog. Aritz Moreno also debuted in feature film with Advantages of Traveling by Train, with an outstanding cast including Belén Cuesta, Luis Tosar and Javier Botet. Another debut feature, Paradise Hills, by Alice Waddington, will be landing in Sitges after showing at Sundance 2019. With an international cast that includes Milla Jovovich and Emma Roberts, and Nacho Vigalondo's participation in the screenplay, the film is set in a mysterious, luxurious boarding school. Social criticism will be present in Galder Gaztelu-Urrutia's thriller El Hoyo, which places the viewer in a dystopian environment where people are divided into different levels.
Latin American fantastic cinema will shine at the 52nd Festival with the season's best films. The unpredictable Brief History from the Green Planet, by Argentinean Santiago Loza, blends drama and comedy in a history of aliens and transsexuality. Also Argentinean are Dead End and I Am Toxic, by Daniel de la Vega and Pablo Parés, respectively. A criminal thriller and a post-apocalyptic horror film that demonstrate the excellent health of genre in this country. From Venezuela comes Infection, Flavio Pedota's film about an unknown outbreak of the rabies virus. Colombian Luz, by Juan Diego Escobar Alzate, goes deep into a community that lives in the mountains and is waiting for a new messiah. The Uruguayan film In the Quarry, by brothers Bernardo and Rafael Antonaccio, raises issues of gender violence with the tone of a thriller.
The most personal look at genre will arrive hand in hand with Noves Visions. The Finnish Dogs Don't Wear Pants, by J-P Valkeapää, straight from the Directors' Fortnight, will be in charge of opening this section with the personal odyssey of a man lost in a labyrinth of sadomasochistic seduction, at the hands of a dominatrix who will put the protagonist's own limits to the test. Kindred Spirits, directed by Lucky McKee and starring Thora Birch, will be one of the films in Noves Visions most eagerly-awaited by fans of the latest American horror movies. The Halt by Filipino Lav Diaz (Season of the Devil) and also presented at the latest Directors' Fortnight is set in a dystopia about the future of the Philippines with a science fiction tone and a runtime of over four and a half hours.
The 2019 Sitges Film festival runs between the 3rd and the 13th of October.
Editor-in-Chief at Moviescramble. A Fan of all things cinematic with a love of Film Noir, Sci-Fi and Julia Roberts in Notting Hill. He hopes to grow up some day.
Latest posts by John McArthur (see all)