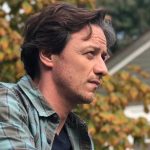 We're getting a second glimpse of The Losers Club before they make their way back to UK cinemas this Autumn. And, if the naked old lady in the first trailer scared you, get ready to feel even more fear as Pennywise narrates the final teaser.
"For twenty seven years," he drools, "I've waited for you … I've hungered for you … I've missed you." Director Andy Muschietti is really ramping up the return of the shape-shifting clown, as he attempts to pick up where he left off.
We see more of Pennywise in this trailer than we did in the first trailer and he's certainly not giving up on his lust for flesh. There are more and more red balloons, as the chiming, shuddering music slowly ramps up.
There are lots of images of people being trapped: James McAvoy in a wall of mirrors and Jessica Chastain in a flooded room, hinting that there is no escape from their inevitable fate.
And what will really get you is that final image of Skarsgard, eyes facing in opposite directions, face smeared with blood … Wow.
It Chapter Two is out in UK cinemas on September 6.
Editor at Moviescramble. European cinema, grisly thrillers and show stopping musicals are my bag. Classic Hollywood Cinema is comfort food. Spare time is heavily dependent on a lot of pizza and power ballads.
Latest posts by Mary Palmer (see all)