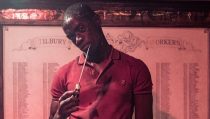 After premiering at the 2018 Toronto International Film Festival, Adewale Akinnuoye-Agbaje's stunning directorial debut Farming is set for release in UK cinemas on 27th September 2019. Based on his own life story, Adewale Akinnuoye-Agbaje's film charts the extraordinary journey of a young fostered Nigerian boy who, struggling to find an identity, falls in with a skinhead gang in 1980's England.
At six weeks old, Enitan is left in the care of a white working- class family in the dock-town of Tilbury, in Essex. His new surrogate mother, Ingrid (Kate Beckinsale), makes for a complex, but dubious foster parent. Unsure of his place in the world, and lacking a mother's love, desperate to belong the teenage Enitan (Damson Idris) spirals into self-destruction, falling in with a local skinhead gang led by Levi (John Dagleish). When all seems lost, a sympathetic teacher, Miss Dapo (Gugu Mbatha-Raw), offers him one last shot at redemption.
Told with brutal honesty, Farming is an unflinching autobiographical portrait of a young man who must battle the odds and realise that, in a world of hate, his toughest battle will be learning to love himself. The cast is led by Damson Idris, Kate Beckinsale, Gugu Mbatha-Raw, Olivier Award-winner John Dagleish, Jaime Winstone, Ann Mitchell, Genevieve Nnaji, Adewale Akinnuoye-Agbaje, Lee Ross and Zephan Amissah.
Latest posts by
John McArthur
(see all)