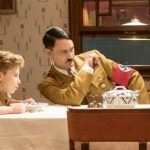 "Visionistical" director, Taika Waititi, is keeping the first glimpse of Jo Jo Rabbit short and sweet. The first teaser – ahead of the film's debut at the Toronto International Film Festival – doesn't give too much away, other than a glimpse of the director in full Adolf Hitler garb.
Based on Christine Leunens novel "Caging Skies", the film centres around JoJo Betzler (Roman Griffin Davis) as he embarks on Hitler Youth training in the midst of World War Two. He's getting bullied by his peers and so, in order to combat this, he invents an imaginary friend … Hitler. To further complicate things, JoJo discovers that his mother (Scarlett Johansson) is hiding a young Jewish girl in their attic.
The trailer also alludes to a host of wacky characters, played by the likes of Sam Rockwell, Alfie Allen and Rebel Wilson. Tongue firmly in cheek, the film almost feels like a modern version of Chaplin's The Great Dictator. 
Released in the US in October, JoJo Rabbit won't be hitting UK cinemas until January 3, 2020.
Latest posts by Mary Palmer
(see all)